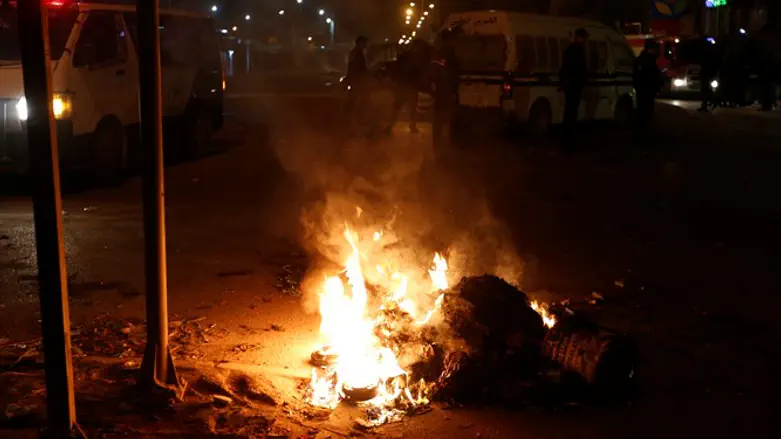 Protest in Tunisia
Reuters
One person was killed on Monday during clashes between security forces and protesters near the capital of Tunisia, Reuters reports.
The incident in the town of Tebourba, located 40 kilometers (25 miles) west of Tunis, took place during a demonstration against government austerity measures, a security official said, without giving details.
The protest had turned violent when security forces tried stopping some youths from burning down a government building, witnesses said. Five people were wounded and taken to a hospital, state news agency TAP said.
Demonstrations over rising prices and tax increases have spread in the North African country over the past week, noted Reuters.
Tunisia, widely seen in the West as the only democratic success among nations where "Arab Spring" revolts took place in 2011, is suffering increasing economic hardship.
Those protests saw the toppling of ex-president Zine el Abidine Ben Ali, who ruled Tunisia for 23 years and who fled the country with his wife.
Following Ben Ali's ouster, Tunisia held democratic elections for the first time, which were won by the Islamist Ennahda party, which is affiliated with the Muslim Brotherhood. Ennahda was forced to step down shortly after being elected.
Anger has been building up since the government said that starting January 1, it would increase the price of gasoil, some goods and taxes on cars, phone calls, the internet, hotel accommodation and other items, part of austerity measures agreed with its foreign lenders.
The 2018 budget also raises customs taxes on some products imported from abroad, such as cosmetics, and some agricultural products.
The economy has been in crisis since a 2011 uprising unseated the government and two major terrorist attacks in 2015 damaged tourism, which comprises 8 percent of GDP. Tunisia is under pressure from the International Monetary Fund to speed up policy changes and help the economy recover from the attacks, noted Reuters.
Violent protests spread on Monday to at least 10 towns with police and crowds clashing in Fernaneh, Bouhajla, Ouslatia, Moulouche, Sabitla, Gtar and Kef.
There was also a protest turning violent in Ettadamen district in the capital, residents said. Security forces had already dispersed small protests in Tunis late on Sunday.
On Monday, about 300 people also took to the streets in the central Tunisian town of Sidi Bouzid, which was the cradle of the country's Arab Spring revolution, carrying banners aloft with slogans denouncing high prices, according to Reuters.