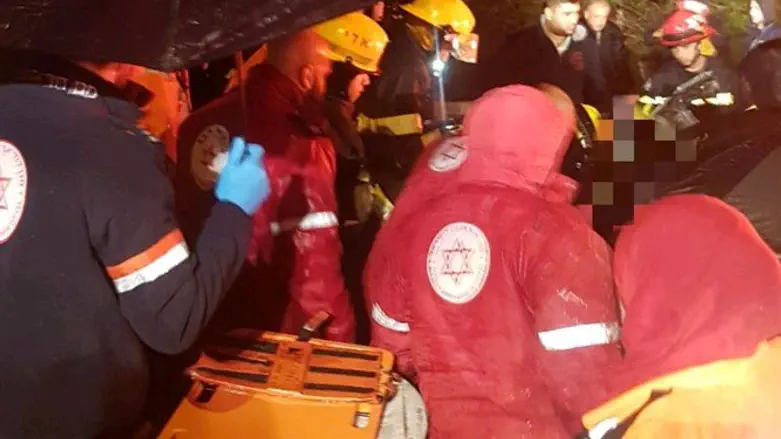 Scene of the accident
MDA spokesperson
Two people were killed and three more injured in a car accident in the Wadi Ara region of Israel east of Hadera Thursday night.
Authorities say the victims, a man approximately 30 years of age and a woman of about 40, were killed when two cars crashed into each other on the access road leading to the Israeli-Arab town of Barta'a.
Barta'a, located along the "Green Line" dividing pre-1967 Israel from Judea and Samaria, is partially under Israeli sovereignty, with its eastern portion in Area C in Samaria, under control of the Defense Ministry's Civil Administration.
MDA emergency first responders were dispatched to the scene, and treated the injured before evacuating them to Hillel Yaffe Medical Center in Hadera. MDA officials reported five people were injured in the accident, two fatally.
Of the three surviving crash victims, one is in critical condition, while the other two are in serious condition.
Witnesses say the cars were completely crushed in the accident, and rescue workers had to extricate those trapped inside.
"This was a really terrible car accident," said MDA's Assaf Tapuhi. "The cars were just totally crushed. Three men were trapped in one of the cars, including one who was unconscious and had no vital signs, and two others who were conscious but suffering multi-system injuries."
"Two women were trapped in the other car – a woman in her early 40s who had no vital signs, and a woman roughly 25 years old who was conscious."
"The rescue effort by the Fire and Rescue team was under very difficult conditions – in the dark with heavy rain. We gave the victims first aid on the scene. Two of them were evacuated in an MDA intensive care ambulance unit to Hillel Yaffe hospital in Hadera, while a third, who was unconscious and hooked up to a breathing machine, was evacuated by an army helicopter."