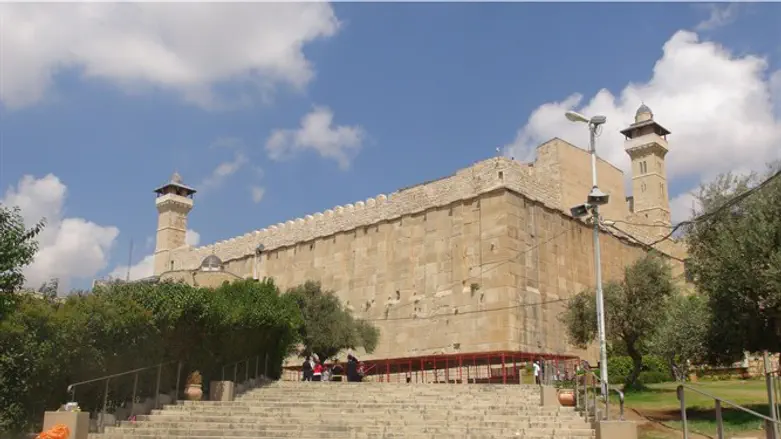 Cave of the Patriarchs
Eliran Aharon
Youssef Ideiss, the Palestinian Authority (PA) official in charge of religious affairs and endowments, on Wednesday accused Israel of desecrating Islamic holy sites in Jerusalem and Hevron.
According to the Hamas newspaper Felesteen, Ideiss described the actions of the "occupation forces" in December 2017, including an "assault and desecration" of the sanctity of the Al-Aqsa Mosque in 30 incidents and the prevention of the call of the muezzin for prayer in the Ibrahimi Mosque (Cave of the Patriarchs) in 53 incidents, a charge he already made earlier this week.
His list also includes the following incidents: the arrest of four guards at the Al-Aqsa Mosque, the summoning for questioning of the official responsible for the guard unit at the mosque, the suppression of processions in the Bab al-Amud area in protest of the U.S. recognition of Jerusalem as the capital of Israel, and three "break-ins" by the Antiquities Authority into the Bab al-Rahma cemetery, which is adjacent to the Al-Aqsa Mosque, in which trees were cut down and several graves were desecrated.
Ideiss further claimed that placing an Israeli flag and a lamp in the area of the Ibrahim Mosque (Cave of the Patriarchs) constitutes a violation of a place that is holy to the Muslims.
He also accused Israel of continuing the excavations around the Al-Aqsa Mosque, building synagogues and gardens in the area of the Western Wall, and preventing Muslim worshipers from arriving at the mosque.
According to Ideiss, Israel is striving to build the "imaginary" Third Temple on the ruins of the Al-Aqsa Mosque and to Judaize the Islamic sites. In order to deal with the Israeli measures, he called on Muslims to demonstrate their presence at the Al-Aqsa Mosque.
Palestinian Authority leaders continuously accuse Israel of "Judaizing" Jerusalem and the Temple Mount.
These officials often make unfounded and ridiculous claims regarding Israel's intentions on the Temple Mount. The false claim that Israel plans to demolish the Al-Aqsa Mosque and replace it with a Jewish temple is often repeated by these officials.