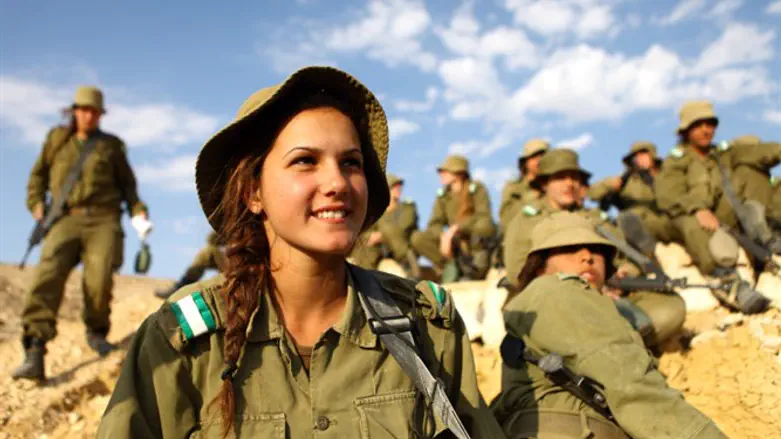 Female soldiers (illustrative)
Flash 90
A report drafted by the Education and Youth Corps, which was acquired by Arutz Sheva and is set to be publicized Wednesday evening, shows the first-ever recorded drop in the willingness of female IDF recruits to serve in combat roles.

The report, entitled "Assessment of the Annual Socio-Educational-Values ​​Situation of the IDF for 2018," cites a study conducted by the army's Behavioral Sciences Department, a unit which, inter alia, conducts surveys on various issues related to the behavior and attitudes of IDF soldiers and officers.

According to the latest survey conducted by the department, only 55% of male candidates for security forces are willing to serve in combat positions.
The survey also revealed that there was a decline in the desire for combat service among female candidates, following a significant increase in 2014.

Only one-fifth of youth believe that someone who serves in a combat unit contributes more to the state than someone serving in other positions, the study also reveals. Most candidates do not believe that "higher quality people" tend to be recruited into combat positions.

The document further states that "despite the stability in the social mindset that regards combat service as a significant contribution, it is possible to point to a certain decline in the exclusivity of combat service as the main channel for contributing to the state, and a general decline in the desire of young people to enlist in combat units, especially in infantry and the Operations Directorate."
Arutz Sheva contacted the IDF Spokesperson to verify that the data published in the Education Corps document indicating a decrease in women's motivation to be fighters is indeed well-established.

The IDF Spokesperson, who responded only two days later, attempted to downplay the findings of the study.
"The data appearing in the document regarding women's motivation for combat are based on a telephone survey conducted by the IDF's Behavioral Sciences Department. In light of the fact that the enlistment of female combat soldiers is voluntary, it is possible to measure motivation through other variables. The totality of the data, including the increase in the number of female candidates who arrive to screening for combat positions, indicates an increase in the motivation to enlist in combat among women."