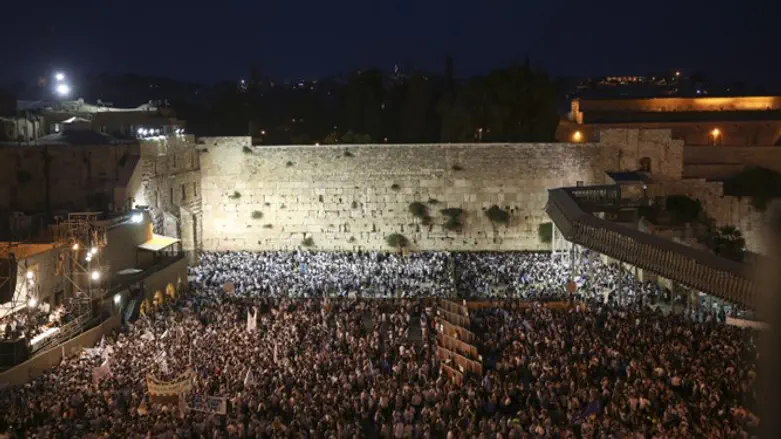 The Western Wall (Kotel)
Flash 90
A solid majority of Israeli Jews opposed Palestinian Authority demands that Israel's capital city, Jerusalem, be partitioned as part of a future final status agreement.
According to a poll released Wednesday by the Israel Democracy Institute and Tel Aviv University, a paltry 12.3% of Israeli Jews say they would accept the partition of Jerusalem, following after a stable peace with the Palestinian Authority was achieved.
The overwhelming majority (71.7%) responded that the city should remained unified, and stay the capital of Israel – and not be shared as a dual capital with a future Palestinian state.
Of those, 19.9% said Islamic holy places could be excluded from Israeli control.
Another 6.8% said they would accept Jerusalem becoming a 'corpus separatum' – a sort of international city administered by the United Nations, as proposed by United Nations General Assembly Resolution 194 in 1948.
Even fewer endorsed the idea of Jerusalem becoming a dual capital for both Israel and a future Palestinian state, while remaining under full Israeli sovereignty, with just 5.5% of Israeli Jews backing such an arrangement.
But Israeli Arabs overwhelming support fundamentally altering the status quo of Israel's capital, with 43.5% backing partition of Jerusalem, while 21.9% say the city should remain united, but as the joint capital of both Israel and a Palestinian state. Ten point six percent said they backed Jerusalem becoming an international city.
While Israeli Jews strongly backed maintaining the status quo of Israeli sovereignty over all of Jerusalem, they were less likely believe that would likely continue if Israel reached a comprehensive peace deal with the PA.
Half of Israeli Jews believe the city would remain the unified capital city of Israel even under a peace deal with the PA, including 22.9% who say Islamic holy places would be excluded from Israeli control.
Nearly a quarter (22.9%) say the city would be partitioned, with an additional 6.3% believing the city would likely remain united, but as a joint capital. Five percent say Jerusalem would likely become an international city.
Despite their support for retaining Jerusalem as a unified city, close to two-thirds (61.2%) of Israeli Jews believe the city is already de facto divided between predominantly Jewish neighborhoods, and majority Arab neighborhoods. Just over a third (35.2%) say the city is not de facto divided.