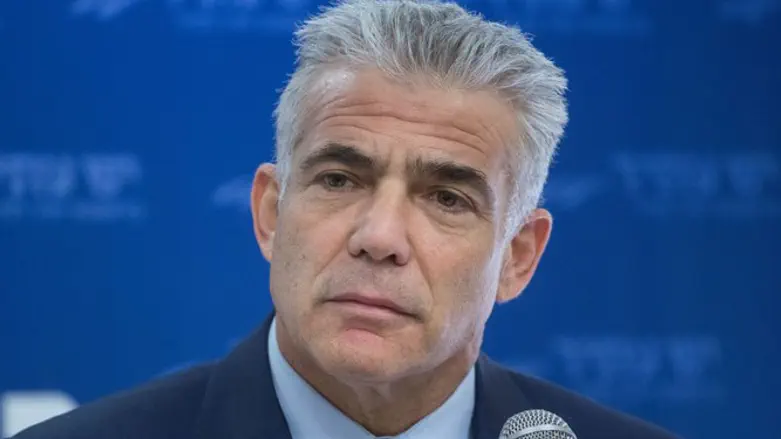 Yesh Atid Chair Yair Lapid
Flash 90
The Likud movement's Legal Advisor Avi Halevy appealed today to the head of the Privacy Protection Authority in the Justice Ministry against the Yesh Atid party and its chairman MK Yair Lapid, for alleged illegal use of databases and breach of privacy protection law regulations.
Attorney Halevy wrote to the Justice Ministry that Yair Lapid sent e-mails to thousands of citizens under the heading "They're going to close the city on Shabbat."
"The response of a civilian who was included among the thousands who received the mail was reported in the media. He expressed surprise that his personal details were included in the database used to send MK Yair Lapid's message.
"The circumstances of the case seem to raise suspicions that MK Yair Lapid's announcement was sent by illegal use of databases and in violation of Privacy Protection Law provisions, which seek to protect the privacy of state citizens," Halevi added.
In his appeal, Halevy noted that this is not the first case in which Yesh Atid made illegal use of databases. In the past, the Justice Ministry fined Yesh Atid tens of thousands of shekels for illegal use of a database by sending direct mail to Holocaust survivors during the election campaign for the 20th Knesset.
In his letter, Halevi noted that "in view of the great importance of the interest in protecting privacy and due to the recurrence of the case, we ask His Honor to open an immediate examination of the complaint."
Yesh Atid party said in response, "All the emails sent from Yesh Atid are sent to people who have asked to be added to our mailing lists. The emails are also sent to e-mail addresses from legally registered databases. Every email indicates that one may request to remove his address from the mailing list."