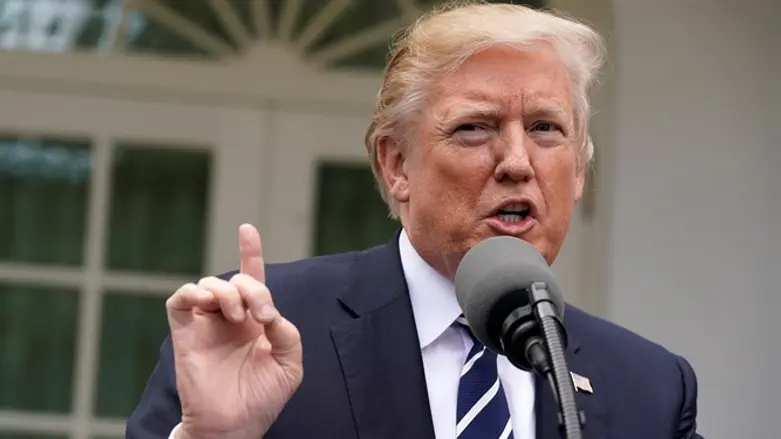 Donald Trump
Reuters
U.S. President Donald Trump said on Tuesday that the Palestinian Authority (PA) does not show the United States appreciation or respect, hinting that due to this fact, it does not deserve the large amounts of aid it received from the U.S. annually.
"It's not only Pakistan that we pay billions of dollars to for nothing, but also many other countries, and others. As an example, we pay the Palestinians HUNDRED OF MILLIONS OF DOLLARS a year and get no appreciation or respect. They don't even want to negotiate a long overdue peace treaty with Israel," he tweeted.
"We have taken Jerusalem, the toughest part of the negotiation, off the table, but Israel, for that, would have had to pay more. But with the Palestinians no longer willing to talk peace, why should we make any of these massive future payments to them?" added Trump.
His tweets came hours after the U.S. Ambassador to the UN, Nikki Haley, warned that the PA risked losing the hundreds of millions of dollars in aid it receives from the United States if it continues to shun peace negotiations.
"The president has said that he does not want to give any additional funding until the Palestinians agree to come back to the negotiating table," said Haley, adding that if negotiations do not resume, "the president is not going to continue to fund that situation."
"The Palestinians now have to show their will that they want to come to the table. As of now they're not coming to the table but they ask for aid. We're not giving the aid. We're going to make sure that they come to the table. And we want to move forward with the peace process," Haley said.
The PA has reacted angrily to Trump's recent recognition of Israel as Jerusalem's capital, with PA chairman Mahmoud Abbas announcing that he would not accept any U.S. peace plan.
"The United States has proven to be a dishonest mediator in the peace process and we will no longer accept any plan from it," Abbas said at a press conference with French President Emmanuel Macron last month.
On Sunday, Abbas recalled the PA envoy to Washington, Husam Zomlot, for "consultations" over Trump's Jerusalem move. However, Zomlot returned to Washington just one day later.