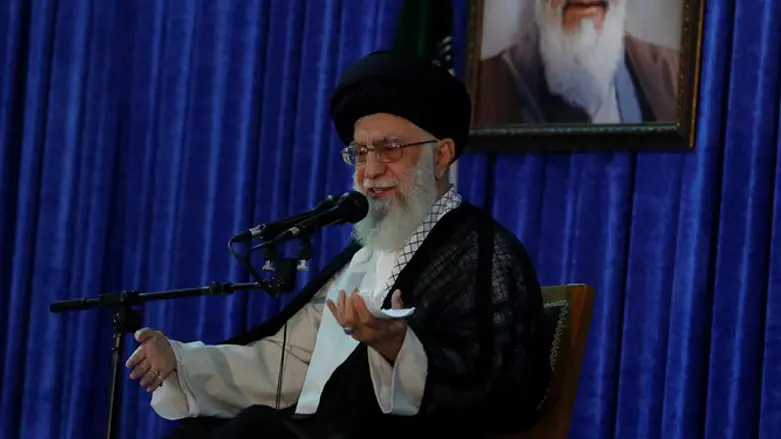 Ayatollah Ali Khamenei
Reuters
A leaked report of meetings recently held by Iranian leadership indicates how pressured the regime feels from the latest wave of protests that have swept the country.
According to Fox News, the report was given to the National Council of Resistance of Iran from "high level sources" within the regime, and covered meetings up to December 31 between Supreme Leader Ayatollah Ali Khamenei, political leaders and security heads over how to suppress the current wave of protests.
The meeting notes, excerpts of which were published by Fox News, concluded that the unrest "threatens the regime's security. The first step, therefore, is to find a way out of this situation."
"Religious leaders and the leadership must come to the scene as soon as possible and prevent the situation (from) deteriorating further," the report said.
"God help us, this is a very complex situation and is different from previous occasions."
The report also said that protesters had "started chanting the ultimate slogans from day one. In Tehran today, people were chanting slogans against Khamenei and the slogans used yesterday were all against Khamenei."
"Security and intelligence forces must constantly monitor the situation on the scene and conduct surveillance and subsequently report to the office of the leadership."
The report also noted the regime's trepidation over sending Revolutionary Guard or Bassij forces to counter the protests, lest the efforts "backfire" and further "antagonize the protesters."
US President Trump's open support for the protesters was also referenced in the notes, which said that "The United States officially supported the people on the streets."
Since last Thursday, thousands of Iranian civilians have taken to the streets to protest against President Hassan Rouhani's government and the country's supreme leader, Ayatollah Ali Khamenei.
The uprising, the largest since a series of mass protests in 2009, began in the city of Mashhad, when demonstrators denounced President Rouhani over the failure to reduce the country's high unemployment rates.
At least nine people were killed in Iran overnight, with attacks on Iranian security forces and government facilities across the country.
According to some reports, as many as 13 people were killed by Iranian security forces over the weekend in protests across the country. The Associated Press confirmed 12 of the 13 reported deaths.