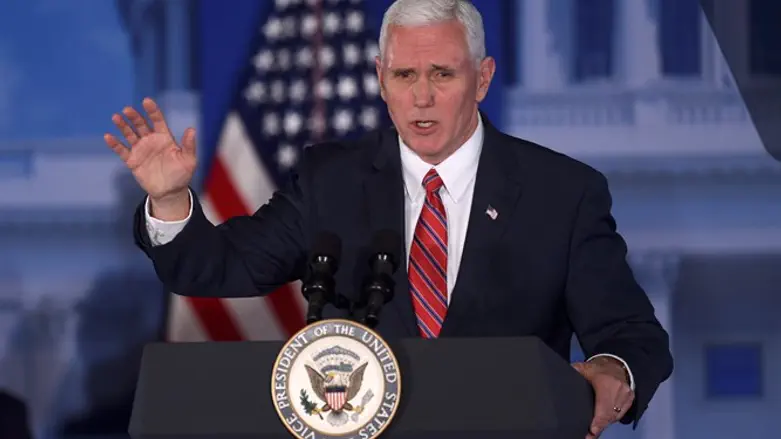 Vice President Mike Pence
Reuters
Vice President Mike Pence will visit Israel later this month, despite repeated delays for a trip originally scheduled for December 18th.
The trip, which had been announced in November, was to have taken place during the Hannukah festival, and included an address by the Vice President at Israel's Knesset – the first address by a senior US official at the Israeli legislature since then-President George W. Bush spoke in 2008 at an event marking the 60th anniversary of the establishment of the State of Israel.
While Pence had planned to meet with Palestinian Authority chief Mahmoud Abbas, senior PA officials announced that Pence would be unwelcome, following President Donald Trump's historic December 6th declaration recognizing Jerusalem as Israel's capital city.
The trip was delayed, however, ahead of a vote on a major Republican-backed tax reform package. The final vote, which ultimately took place on December 20th, passed along party lines, with all 46 Democrats and both independent Senators who caucus with the Democrats voting against, and 51 of the Senate's 52 Republicans voting for. Prior to the vote, it was unclear if Vice President Pence's tie-breaking vote would be needed.
Yet even after the tax bill passed, no new date was scheduled for Pence's long-anticipated Israel trip.
Israeli Foreign Ministry spokesman Emmanuel Nahshon confirmed Monday that no date had been confirmed with Israeli officials for Pence's visit, The Associated Press reported.
"The visit is not included in our provision of scheduled visits of high-level dignitaries in January," said Nahshon.
A spokesperson for the Vice President responded to the report, saying that Pence did indeed plan on visiting the Jewish state, and expected to make the visit later this month, though he declined to offer any specific dates.
"As we said, we are going later this month," said Pence's deputy chief of staff, Jarrod Agen.