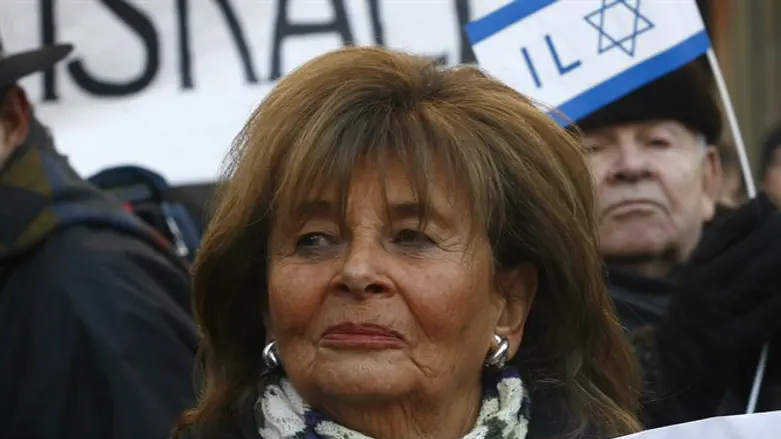 Charlotte Knobloch
Reuters
Charlotte Knobloch, the former president of the Central Council of Jews in Germany, warned on Friday that Jewish life is only possible with police protection.
Speaking with the German newspaper Heilbronner Stimme and quoted by Deutsche Welle, Knobloch voiced concern over the growing anti-Semitism in the country, saying the threat comes from the center of German society and the government needs to act.
Knobloch pointed out the fact that Hanukkah celebrations in Berlin and Munich, as well as the hanukkiyot installed in both cities, were, by necessity, accompanied by massive, around-the-clock police protection. A hanukkiyah installed in the city of Heilbronn, for instance, was attacked and damaged by vandals.
She also called for Germany's federal government to create a new authority to monitor and defend against growing anti-Semitism.
"Anti-Semitism has grown on the right and the left, in the Muslim community and also in the heart of German society," warned Knobloch, currently the president of the Jewish Community of Munich and Upper Bavaria, adding that an efficient approach to fighting public and covert anti-Semitism is long overdue.
In addition to the vandalism during Hanukkah, about 2,500 people recently demonstrated in Berlin against U.S. President Donald Trump's decision to recognize Jerusalem as Israel's capital and burned an Israeli flag.
German Justice Minister Heiko Maas later condemned the incident and said there was no place for anti-Semitism in Germany.
The country's Interior Minister, Thomas de Maiziere, said following the rally that Germany should appoint an anti-Semitism commissioner to counter growing hate speech against Jews and Israel.
In another recent incident of anti-Semitism, a video documenting a 60-year-old German man berating and insulting a Jewish restaurant owner in Berlin went viral.
Commenting on the video, Knobloch said, "The hostility and threats that can be seen in the video are disgusting but not unusual. Many overt and covert forms of anti-Semitism are on the rise in every area of society."
She underlined the fact that the video did not represent an isolated incident but rather the "everyday experience of Jewish people. Anti-Semitism is widespread online and on social media but also in the analog world. Jewish students, for instance, suffer greatly from this phenomenon—'Jew' has once again become an insult in German schoolyards."
In September, Germany formally accepted the working definition of anti-Semitism promoted by the International Alliance for Holocaust Remembrance.
In addition to classic forms of anti-Semitism, the definition offers examples of modern manifestations, such as targeting all Jews as a proxy for Israel, denying Jews the right to a homeland and using historical anti-Semitic images to tarnish all Israelis.
Britain, Austria and Romania have also adopted the definition.