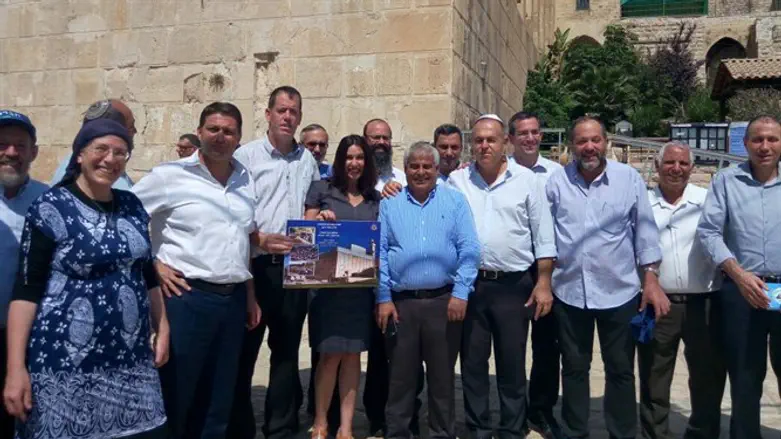 Regev in Hevron
spokesperson
Culture Minister Miri Regev participated in a cornerstone-laying ceremony for the new Founders Museum in Hevron Monday.
Minister Regev told Arutz Sheva that it was "a great privilege to be here in the Cave of the Patriarchs, the place where our patriarchs and matriarchs are buried, [to be here] together with the leaders of the settlement, the settlers and the founders [of the renewed Jewish community in Hevron]."
"We are actually laying a cornerstone for the museums that will be built here in Judea and Samaria. The museum will relate the story of the pioneers of Judea and Samaria, just like the story of the pioneers of Degania, Kiryat Shmona and Dimona [in other museums]. We will expand the existing museum in Beit Hadassah so that more visitors come and see the very clear truth : The people of Israel, the Jewish people is connected to these areas," added Regev.
"The more you dig here, the more you find that there is no Palestinian Arab currency and no connection [between the land] and the Palestinian Arab people," she said. "This land has a connection with only one people - the Jewish people - and therefore we will stay here forever."
Will we see more construction here?
"We will hopefully see here more construction, more expansion, and we will encourage more people to come and live here, as in any part of the State of Israel. As I said before, there is room for only one nation-state between the sea and the Jordan River - that of the Jewish people. "
רגב בחברון: לאדמה הזו יש קשר לעם אחד בלבד