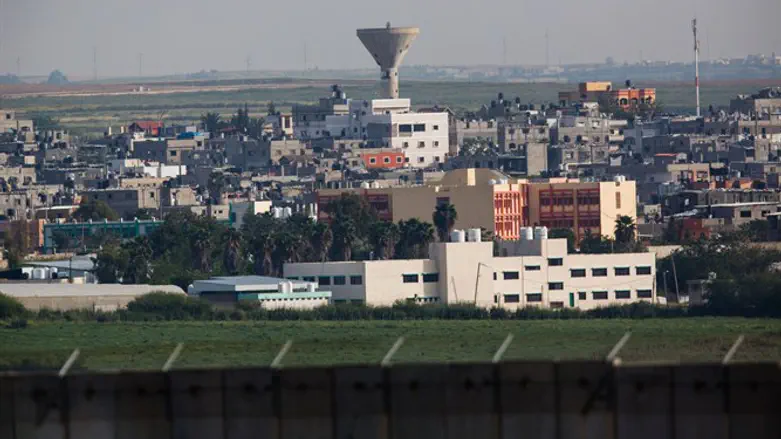 Gaza-Beit Hanun border
Corina Keren/Flash 90
A group of activists are planning to delay on Monday two buses which arrive at the Nafha Prison from Gaza every week and which carry women from Gaza who visit their sons, who are imprisoned in Israel over terror-related activities.
"We are planning to board the buses and explain to them in Arabic the need for reciprocity. It is inconceivable that they can visit their sons, while the families of our missing persons do not know what is happening with them," Yoel Marshak, one of the organizers of the activity, told Arutz Sheva on Sunday.
"Naturally, they will be angry at the delay and tell us they have no connection to Hamas, but we hope they will send the message to Hamas," Marshak explained.
"It is inconceivable that they can visit the terrorists in our prison, while the Shaul, Goldin and Mengistu families cannot," he continued. "According to the Geneva Convention, we are not obligated to allow them to visit their sons, the Red Cross visits them and that is enough. We demand that these visits stop as long as they do not allow us to visit our prisoners."
Hamas has been holding the bodies of IDF soldiers Hadar Goldin and Oron Shaul since the 2014 Operation Protective Edge.
In addition, two Israeli civilians who went missing in Gaza - Avera Mengistu and Hisham al-Sayed - are believed to be held by Hamas as well.
The Red Cross has in the past urged Hamas to comply with its obligations under international humanitarian law and provide an update on the condition of Israeli nationals who went missing in Gaza.
Hamas has refused to comply with the request, and has also refused to allow the Red Cross to visit the missing Israelis.