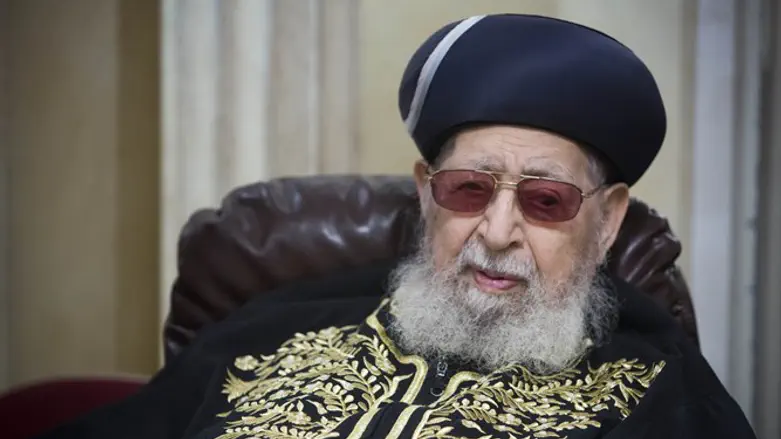 Rabbi Ovadia Yosef
Flash 90
A Jerusalem city council committee approved a request Sunday to rename one of the city's main traffic intersection's after the late Chief Rabbi of Israel and spiritual leader of the Shas party, Rabbi Ovadia Yosef.
Born in Iraq in 1920, Rabbi Yosef headed Cairo's rabbinical court in the 1940s, before taking up positions with the Israeli rabbinate.
Rabbi Yosef was selected as Chief Rabbi of Israel's Sephardic community in 1973, and served in the position until 1983. A year later, he cofounded the Shas party with Rabbi Elazar Menachem Man Shach – a Sephardic-haredi party which drew significant support from non-Orthodox Sephardic voters, peaking at 17 mandates in 1999.
Rabbi Yosef served as the party's spiritual leader until his death at age 93 in 2013.
Following the committee's decision, the Bar Ilan Intersection in Jerusalem - where Shmuel Hanavi Street, Golda Meir Boulevard, Bar Ilan Street, and Levi Eskhol Boulevard intersect – will be renamed the Rabbi Ovadia Yosef Intersection.
In addition, the city's naming committee also approved a proposal to name a school campus in the northern neighborhood of Ramot after Rabbi Yosef Shalom Elyashiv.
A spiritual leader of the Degel Hatorah faction of the United Torah Judaism party following the death of Rabbi Shach in 2001, Rabbi Elyashiv was one of the most widely respected decisors of Jewish law in the haredi community.