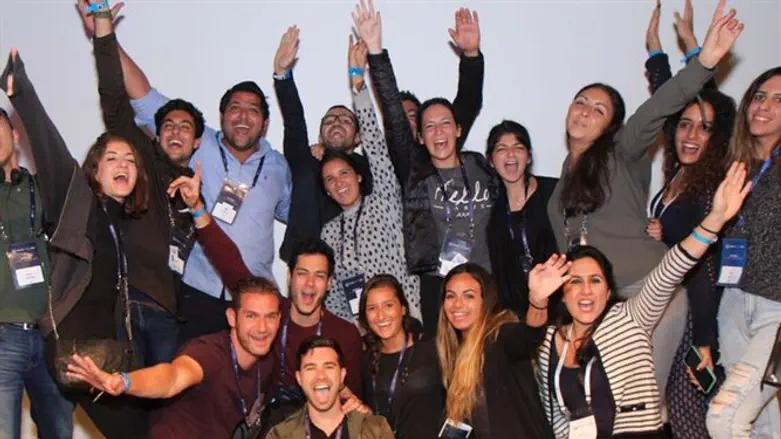 Olami delegates
Olami
Next week Olami, the global community of Jewish organizations committed to inspiring young Jews about their Judaism, is hosting its 2017 Global Summit, the largest global gathering for young Jews.
Starting on the 24th December, 700 delegates from countries across North America, Latin America, FSU and Israel will begin the Olami Summit by visiting Spain and experiencing Jewish education through discovering and understanding their Jewish heritage. The delegates, selected from 320 organizations across the globe, will then travel to London to meet with a further 600 European delegates and take part in a special Opening Ceremony. Following the ceremony, which will include an address from Rabbi Lord Jonathan Sacks, they will travel on to the final leg of the Summit in Birmingham.
The 1,300 delegates from Olami's member organizations will be joined in Birmingham by some of the most inspirational speakers and thought-leaders from around the world, including Minister Naftali Bennett, Rabbi Dr Akiva Tatz, Rabbi Yisrael Meir Lau, as well as many other Knesset Members, Jewish community leaders, philanthropists, and educators.
Olami ceremony
Olami
The Summit theme for this year is "Own It", which aims to inspire a global community of young Jews to take ownership of their lives and their Judaism and to give them leadership and innovation opportunities for inspiring their Jewish communities back home. In keeping with this theme, a number of leadership opportunities will be offered at the Summit, the first of which is the "Innovation Incubator".
Delegates were invited to present their ideas for Jewish innovation, pitching for $10,000 to pilot a creative Jewish learning idea. Last year's submissions were so compelling that they were pledged $1 million in matched funding to launch their projects. Lead projects from last year include J-TV, a global Jewish TV channel and the Jewish Experience Centre, founded by students from Nefesh Yehudi in Israel.
Girl shares her story
Olami
A brand-new leadership initiative will also be announced, where 15 Regional Ambassadors will be chosen to represent Olami across the globe. The winners will receive leadership training and travel the world to communicate how they think Judaism inspires Jewish greatness.
Rabbi Menachem Deutsch, CEO of Olami said: "This year's Olami Summit is our biggest Summit yet, bringing 1,300 students together with idea-generators, educators, funders, and community leaders to engage, inspire, and learn from each other to meet the needs of our generation. Throughout the year, Olami works with over 320 organizations across the globe and the Summit is an exceptional opportunity to bring these organizations together. The caliber of speakers this year is exceptional, we know after last year that the Olami Summit produces some of the most successful Jewish educational programs across the globe, and we anticipate that this year will be even better."
Winning team presents
Olami