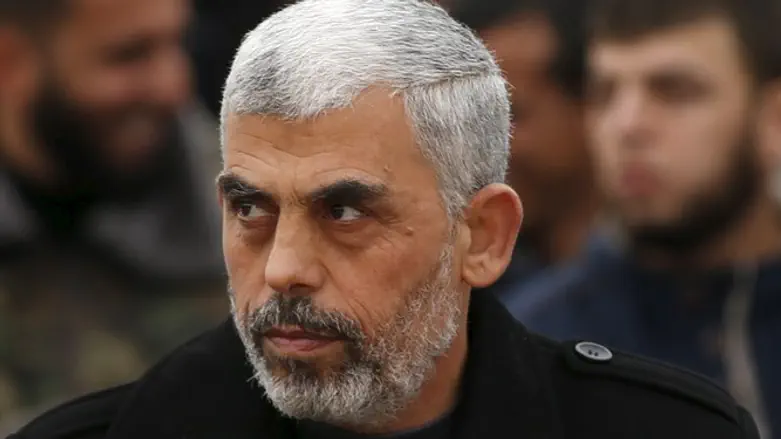 Yihya Sinwar
Reuters
Hamas leader Yahya Sinwar on Thursday urged Palestinian Arabs to turn Friday into a "day of blood" and clash with Israeli security forces in protest against U.S. President Donald Trump's recognition of Jerusalem as Israel's capital, Israeli public broadcaster Kan reported.
Sinwar's call came in a televised speech on Hamas's Al-Aqsa TV, according to the report. In the address, he could be heard calling on Palestinian Arabs in Judea and Samaria to arrive at the friction points with IDF soldiers on Friday in an attempt to set the area on fire, saying the organization feels the "Palestinian uprising" is fading.
"I call on you to turn Friday, tomorrow, into a day of rage, and go out to the points of friction with the occupation forces and the settlers," said the Hamas leader.
"You must demand from your brothers who are in the West Bank, Jerusalem, Gaza - wherever there are Palestinians, Arabs and the free world, to rise up and turn tomorrow into a bloody day of rage, so that we will bring down Trump's stupid decision," added Sinwar.
Since Trump's announcement on Jerusalem, Arabs have held several "days of rage" in protest.
Earlier this week, hundreds of Palestinian Arabs gathered at the Qalandia checkpoint north of Jerusalem, where they threw rocks at security forces and burned tires. In response, security forces made use of crowd dispersal tools.
Clashes between rioters and security forces also took place in Bethlehem, Hevron, and Tulkarem.
The riots were intended to coincide with U.S. Vice President Mike Pence's visit to the region, but went ahead even after Pence delayed his visit until mid-January.