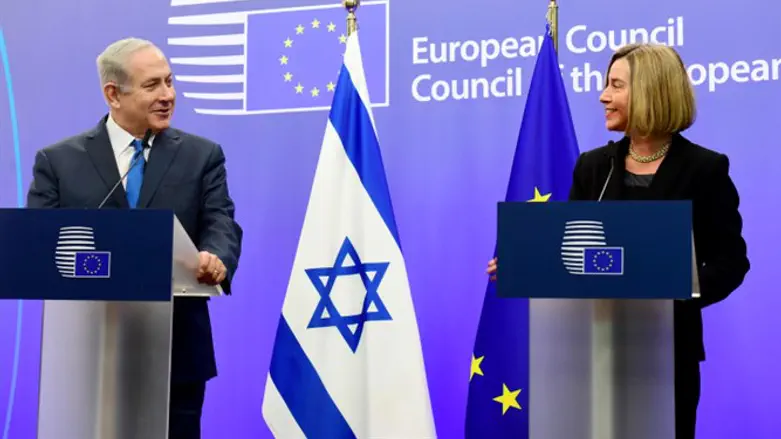 Binyamin Netanyahu meets with Federica Mogherini
Avi Ohayon/GPO
Yesha Council Chairman Hananel Dorani call on Prime Minister Binyamin Netanyahu not to sign an agreement with the European Union which explicitly excludes Judea, Samaria, and Jerusalem.
The agreement is called the "cross-border cooperation in the Mediterranean basin" and grants tens of millions of euros to initiatives that promote cooperation between 14 Middle Eastern countries that do not belong to the EU, such as Turkey, Jordan, and Lebanon.
However, the initiative explicitly rules out the participation of Israeli companies located in Judea and Samaria, East Jerusalem, and the Golan Heights, meaning that Netanyahu would effectively be agreeing to a boycott of all territory captured by Israel in the 1967 Six Day War.
Dorani told Netanyahu in a fiery missive that the prime minister "expresses agreement with a boycott of many areas of the State of Israel, and severe discrimination against Jerusalem, Judea, Samaria and the Jordan Valley, and recognition of sovereignty in the homeland," he said.
Dorani contended that it is inconceivable that the Israeli government invests considerable resources and efforts to boycott Israel while it signs an official agreement obligating itself to perpetuate such a boycott.
"We see you, the prime minister as the ideological representatives of the right-wing, and it is inconceivable that this government will sign a document that represents the positions of the left and the countries that are work against Israel," wrote Dorani.
Israel faced a similar quandary in 2013 when the EU conditioned Israel's participation in the Horizon 2020 science program on the Jewish State signing an official declaration stating that Judea and Samaria, the Golan Heights, and East Jerusalem were not part of Israel.
But after lengthy negotiations it was agreed the EU would appendix an agreement to stop research funds serving institutions in Judea and Samaria, while Israel would add its own appendix stating non-recognition of the new guidelines.