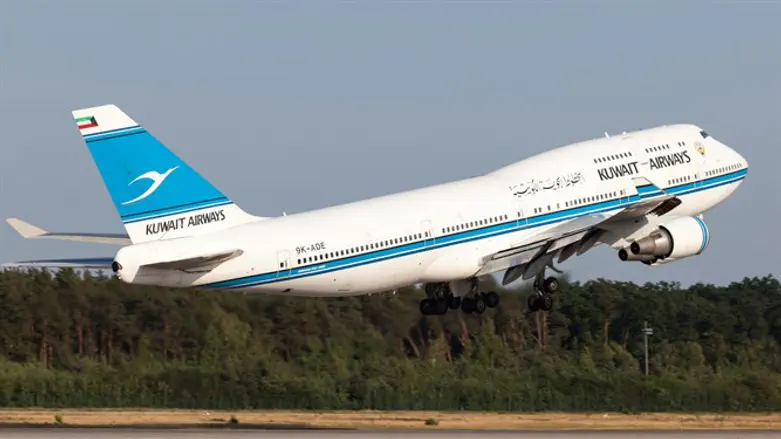 Kuwait Airways airplane
iStock
An Israeli passenger who was prevented from boarding an Arab airline's flight out of Germany due to his nationality, appealed on Monday the decision of a German court which upheld the discrimination. The decision was handed down a month ago.
The case centers around the cancellation of a booked flight from Frankfurt to Bangkok. The Israeli traveler had already purchased tickets to Bangkok from Frankfurt via a stopover in Kuwait, but was barred from boarding after the Kuwait Airways staff learned he was carrying an Israeli passport.
In November, the Frankfurt District Court found that Kuwait Airways could not be held responsible for its refusal to carry the Israeli passenger over his Israeli citizenship.
The court asserted that, since the Kuwaiti government maintains a boycott of Israel, the airline could have faced sanctions domestically if it carried Israeli citizens.
According to The Lawfare Project, a non-profit group combating anti-Israel discrimination through legal means, which is aiding the Israeli passenger, the appeal argues that the verdict of the German court "applied the racist law of a radical, totalitarian regime and allowed it to overrule German national air transportation laws that obligate every air carrier to transport any passenger with valid travel documents."
"In doing so, the court has aided and abetted Kuwait in imposing its anti-Semitic, anti-Israeli laws, even though such discrimination is illegal in Germany."
Nathan Gelbart, The Lawfare Project's German counsel who is representing the Israeli passenger, commented, "We thought we had consigned anti-Semitism to our history books. The Frankfurt District Court's verdict has allowed anti-Semitic discrimination to be imported into our country and helped whitewash and sanitize it."
"We cannot allow our laws to be subverted by the state-sponsored racism of other nations," Gelbart emphasized.