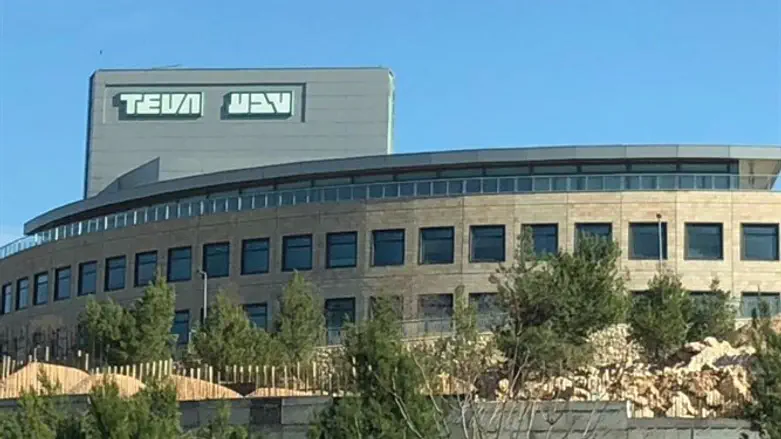 Teva
Eliran Aharon
Economist and former Finance Ministry Director-General Benzion Zilberfarb spoke to Arutz Sheva this week about Teva Pharmaceuticals' announcement that they are planning on firing 25% of their global workforce, including 1,750 Israeli workers.
In his estimation, the strikes and protests will not help, since Teva will have "no choice" but to fire workers.
"Our hearts are with Teva's employees, but the fight won't help," Zilberfarb said. "At the end of the day, Teva will have no choice but to fire employees. The pressure might push the government into doing something to limit the number of employees fired, but as soon as things settle down, everyone will think more clearly and the fight will turn to ensuring those laid off receive good conditions, such as pension and retraining for those interested in absorption into other factories."
Zilberfarb also said Teva's decision to acquire rival Allergan two years ago did not prove a wise one, and caused a company crisis.
"Teva today has a huge problem, which the company itself created in 2016, when then-CEO Erez Vigodman decided to support the directorate's decision to make Teva into the largest generic-drug company in the world and buy a generic-drug company larger than itself for $40 billion," he said.
"Most of this money didn't actually belong to Teva, and to complete the purchase, the company had to take a loan of $35 billion. In addition, the number of funding sources dropped, both as a result of the weakness in the market for generic drugs, as well as in the loss of Teva's exclusivity in selling Copaxone, which previously brought in huge profits."
Currently, the only way to prevent Teva from declaring bankruptcy is to reduce expenses.
"If the company wants to continue repaying its debt from the Allergan acquisition without going bankrupt, it will have to reduce expenses, and that's what we're seeing now.
"There was a failure of Teva's management and directorate, but that's already spilled milk, and we can't do anything about it. Agreements were signed, and we need to think about how Teva can remain a stable company. Teva needs to repay $6 billion by 2018 and $12 billion by 2020, and if it doesn't succeed, it'll collapse.
"To repay these debts, Teva needs cash, and that means either increasing income or decreasing expenses. When the drug market is weak, the only way to do that is to make things more efficient and reduce expenses."
According to Professor Zilberfarb, Teva's crisis will not affect the Israeli market.
"Maybe it'll make us wince, because Teva was a symbol of Israeli success as a small company which became an international company. It might harm our prestige, but it won't harm how attractive the Israeli market is to foreign investors in the fields of cyber and hi-tech.
"The Israeli market is strong, and in the scheme of things, this won't have a huge influence. At the end of the day, the number of unemployed is impressively low, and it's very likely that a large portion of the employees who will be laid off will be able to re-enter the industry."