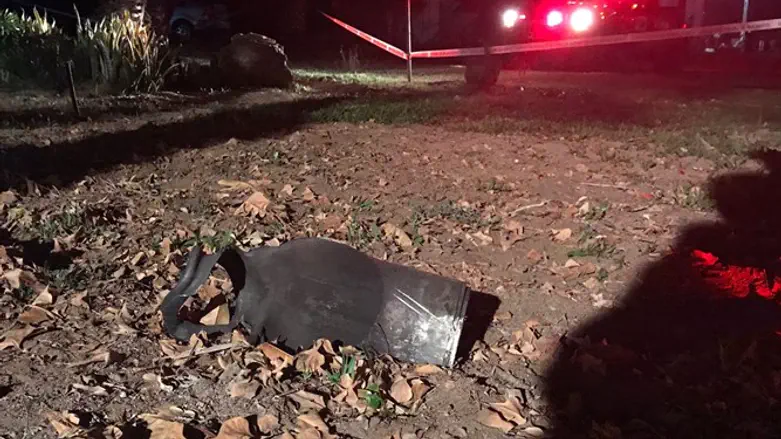 Rocket explodes in Gaza Belt
Israel Police spokesperson
The heads of the local councils in southern Israel on Sunday evening urged the Israeli government to take action following yet another rocket attack from Gaza on the region.
Two rockets had been fired from Gaza into Israeli territory. One of them hit a town near the Gaza border in the western Negev. The rocket reportedly exploded next to a home in the community, but caused no injuries. The building was lightly damaged, an IDF spokesperson said.
The head of the Sdot Negev Regional Council, Tamir Idan, urged the government to respond to the rocket fire from Gaza.
"We expect and demand that the security forces respond with force and make it clear to the terrorists that the State of Israel is determined not to allow continued firing. We are not prepared for the state of emergency to become routine in our lives and we say in a clear language that we are strong and determined and strengthen the security forces," Idan said.
The head of the Ashkelon Regional Council, Yair Farjun, said in a statement, "This 'trickling' of rockets is not a normal situation and we are not willing to accept it as a norm of everyday life."
"The power games between Hamas and the other organizations in Gaza do not interest us. Hamas is the sovereign in Gaza and it is the one that bears responsibility," he added.
The rocket fire from Gaza has intensified in recent days. On Wednesday evening, at least three rockets were fired at Israeli territory from Gaza. The Iron Dome missile defense system intercepted two of the rockets. A third exploded in an open area in the Eshkol Regional Council.
Several residents of Sderot were treated for shock following the rocket attack. Another man who suffered injuries when he fell while running to a shelter was treated as well.
The IDF later retaliated and struck three targets in Gaza belonging to the Hamas terrorist organization and which serve as training and storage sites for weapons.