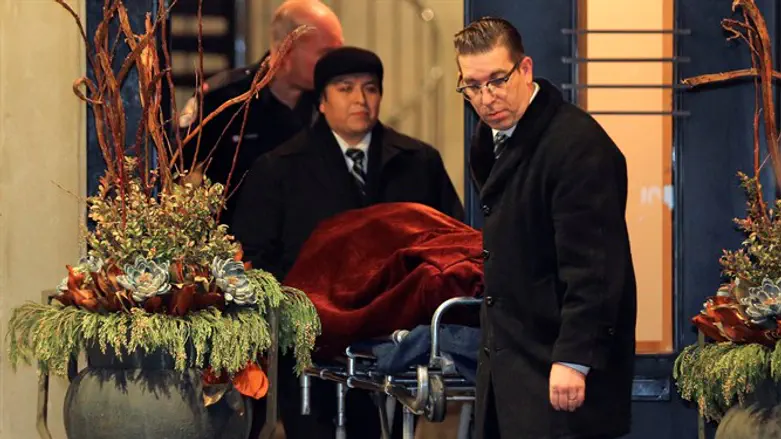 At the Shermans' home
Reuters
Relatives of a Canadian-Jewish billionaire and philanthropist and his wife are pushing back against claims in local media that Toronto authorities are investigating whether their deaths were a case of murder-suicide.
Two Canadian papers have reported that authorities are probing the deaths of Barry (Bernard) Sherman and his wife, Honey, as a possible case of murder-suicide, after the two were found dead last week.
Local authorities found the Shermans dead in their Toronto home on Friday morning, and police reported two "suspicious" deaths at the couple's upscale Toronto home.
According to the Toronto Star and the Globe and Mail, the bodies were found together near the Shermans' indoor pool, after the real estate agent working to sell the home arrived wondering why he had not been able to reach them.
A post-mortem is being conducted on both bodies. Though the police force's homicide squad is being consulted, they are not leading the investigation.
Constable David Hopkinson said, "The circumstances of their death appear suspicious and we are treating it that way. Our investigators are inside investigating and taking apart the scene... Once a determination has been made by the pathologist and the coroner, then we move forward from there."
On Friday, Detective Brandon Price noted home showed no signs of forced entry and said police have no "outstanding suspects" to search for.
"We will be getting a lot more answers tomorrow following the post-mortem examinations," he added.
Relatives of the Shermans, however, have disputed the reports by the Globe and Mail and the Toronto Star, slamming the claims of a possible murder-suicide as "rumors regrettably circulated" by the media.
"Our parents shared an enthusiasm for life and commitment to their family and community totally inconsistent with the rumours regrettably circulated in the media as to the circumstances surrounding their deaths," the family said in a joint statement.
Barry Sherman founded Canada's global pharmaceutical giant Apotex, which made its name producing generic drugs and grew to employ more than 11,000 people worldwide. The couple were generous donors to charity and were deeply mourned by those they helped, including the Simon Wiesenthal Center, in addition to family and friends.