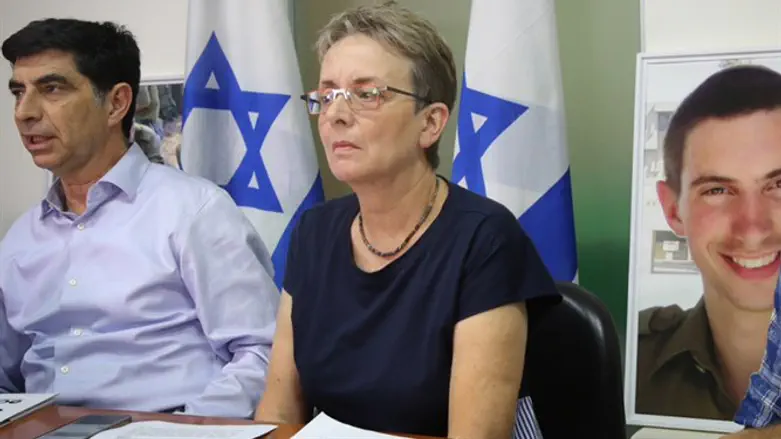 Goldins at press conference
Flash 90
The family of Hadar Goldin, whose body has been held by Hamas terrorists since 2014, slammed the government for its inability to return the bodies of Hadar Goldin and Oron Shaul after the High Court ruled that Israel must hand over bodies of terrorists killed in a terror tunnel.
"We have felt for many long months now that the January cabinet decision calling for pressure to be put on Hamas was hollow and declarative only," said the family. "The High Court decision will only increase the pressure on [Prime Minister Benjamin] Netanyahu and cabinet ministers to get up out of their seats, roll up their sleeves and start to work for the return of Hadar and Oron to Israel."
Hamas has been holding the bodies of IDF soldiers Hadar Goldin and Oron Shaul since the 2014 Operation Protective Edge. In addition, two Israeli civilians who went missing in Gaza - Avera Mengistu and Hisham al-Sayed - are believed to be held by Hamas as well.
The Goldin family has long accused the government for not taking sufficient steps to return the bodies. At a special session held at the Knesset on Sunday, Simcha Goldin attacked Netanyahu for "submitting to terrorism every single day."
"Three and a half years have passed since the abduction, but from the Israeli government, we hear only spin. Members of the Knesset, whose job it is to criticize the government, do not lift a finger, the cabinet members do not implement their decisions, and the ministers do not stick to their word," accused Goldin.
The High Court of Justice on Thursday ordered that Israel return the bodies of Hamas terrorists that were killed in last month's Gaza tunnel explosion unless a new law is legislated within the next six months that enables the state to hold onto the bodies of terrorists.
The decision was roundly criticized by Israeli politicians, including Prime Minister Netanyahu, who called it "problematic" and promised to "convene the cabinet and Attorney General on Sunday for a special session to find practical and legal solutions that would allow us to pressure Hamas."
Education Minister Naftali Bennett (Jewish Home) and Justice Minister Ayelet Shaked (Jewish Home) slammed the High Court, which they claimed "tied Israel's hands", and vowed that they would pass legislation granting Israel legal recourse to hold onto the bodies.
"The High Court of Justice erred by ruling that it prohibits the State of Israel from holding the bodies of terrorists. We are in a war against murderous terror organizations, and we can not fight them with our hands tied," they said.