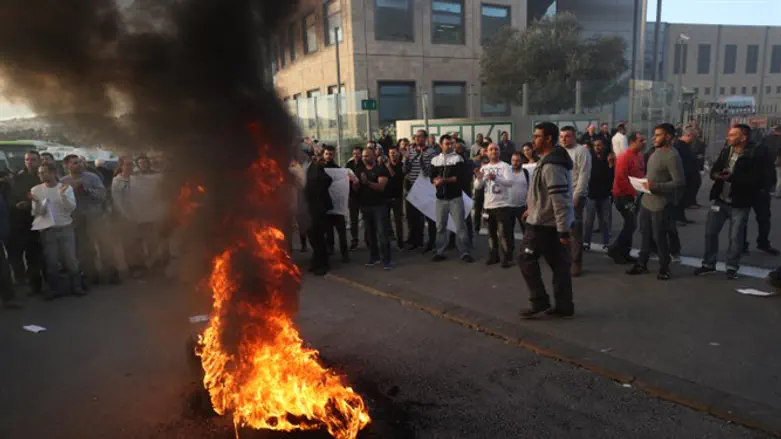 Teva employees protest in Jerusalem
Yonatan Sindel/Flash90
Employees of drug giant Teva Pharmaceutical Industries protested outside the company's Jerusalem factory Thursday, following the announcement that Teva would layoff thousands of employees.
The struggling company, which has seen its shares plummet this year, announced that it will layoff 1,700 employees in Israel and 14,000 employees worldwide by 2019 out of a total workforce of over 55,000.
Employees of the pharmaceutical giant burned tires and blocked roads outside one of its factories in Jerusalem, where 900 of the employees who are to be layed off live.
Teva announced Thursday that as part of its restructuring, two plants in Jerusalem would be closed.
"This is very difficult," longtime Teva employee Lior Kalimi told News 2. "Until this announcement, we were under the impression that Jerusalem would not be affected. My wife and I are in a state of emotional turmoil because of this news."
Prime Minister Netanyahu spoke Thursday with Teva CEO Kare Schultz and asked him to ensure that the layoffs would affect as few people as possible.