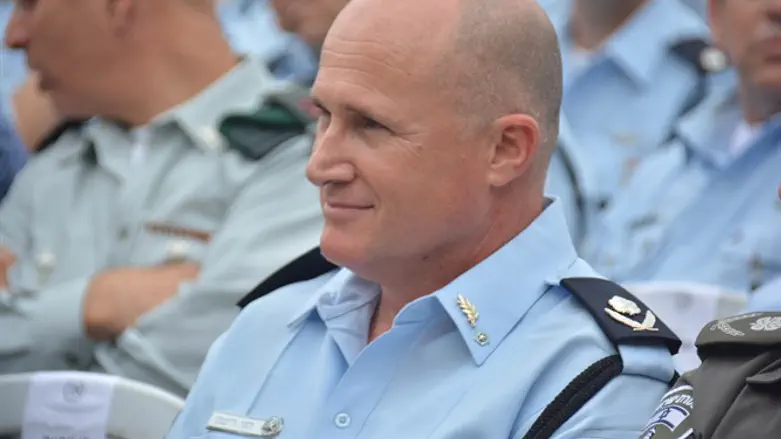 Commander Roni Ritman
Police Spokespersons Unit
Police Commander Roni Ritman, chief of the Lahav 443 special police unit responsible for investigating corruption and which is currently investigating Prime Minister Netanyahu in 'Case 1000' and 'Case 2000', faced criticism Wednesday, after it was revealed that his wife had shared social media comments slamming Netanyahu.
On Wednesday Channel 20 reported that Ritman's wife Michal, a former police superintendent, had posted inflammatory comments on Facebook criticizing Netanyahu.
In one of the posts that Michal Ritman shared was a quote by Zionist Union MK Michal Biran, who alleged that "Netanyahu is starting a civil war". Ritman also shared another post written by Yesh Atid Chairman Yair Lapid which attacked Netanyahu over the corruption allegations.
The report comes after police suspended an officer tasked with investigating Netanyahu after she urged visitors to attend the demonstration against Prime Minister Netanyahu at Tel Aviv's Rothschild Street.
Police are conducting two parallel investigations into the Prime Minister. The first, dubbed 'Case 1000', began in December 2016 and centers around claims the Prime Minister improperly received gifts from a number of wealthy businessmen.
In 'Case 2000' police are probing allegations that Prime Minister and Yediot Ahronot publisher Arnon "Nuni" Mozes conspired to soften the paper's left-leaning anti-Netanyahu line in exchange for passage of legislation barring the free distribution of Israel Hayom, a rival paper that has cut into Yediot's readership in recent years.