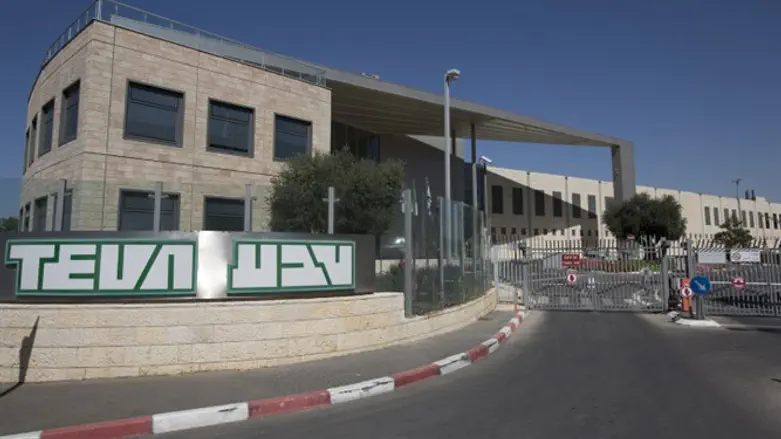 Teva offices
Flash90
Israeli pharmaceutical giant Teva announced Thursday it plans 14,000 job cuts over two years as it unveiled a wide-reaching restructuring plan after facing low prices for generic drugs.
Teva also said it was suspending dividends on ordinary shares and its annual bonus for 2017 will not be paid "due to the fact that the company's financial results are significantly below our original guidance for the year," it said.
The job cuts will amount to more than 25 percent of Teva's global workforce, it said in a statement.
Though Teva is an Israeli company, only 12% of its employees live in Israel. Of the rest, 42% live in Europe, and 18% are located in the US.
Economy Minister Eli Cohen (Kulanu) said Thursday afternoon that Teva's management had promised not to fire workers who live in Israel's Negev and Galilee regions.
"We will continue to work with the company to minimize layoffs in other areas of the country as well," Cohen said.
Meanwhile, MK Rachel Azaria (Kulanu) said, "The layoff of 851 Jerusalem employees, and the closure of two of the company's largest factories are a huge blow for the city, where employment is already a challenge. It is inconceivable that Jerusalem will receive the lion's share of layoffs... I call on the management of Teva, a company with vast Jerusalem roots, to rethink its unfortunate decision."
"Just last week, all of Israel was celebrating the US government's recognition of our capital city. But Jerusalem also has citizens who need employment, not just announcements."
Also on Thursday, Teva Pharmaceutical Industries CEO Kare Schultz promised that a supreme effort will be made to reduce harm to the company's employees. He also responded positively to a demand by Israeli Prime Minister Binyamin Netanyahu to do all he can to preserve Teva's identity as an Israeli company.
On Wednesday, the Histadrut trade union has called a nationwide strike for Sunday, protesting the layoffs.
Teva factory workers on Thursday walked off the job and protested, including by blocking roads.
Teva has been saddled with debt after its $40 billion acquisition of the generics arm of rival Allergan was completed last year. The acquisition has been accompanied by low prices for generics. Teva expects to save $3 billion by the end of 2019 with the two-year restructuring plan.