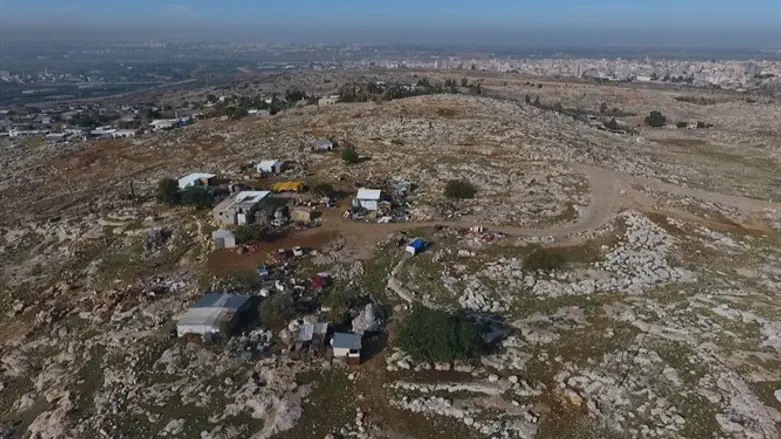 The illegal outpost
Regavim
The State has agreed with petitioners that an illegal Arab outpost was built on privately owned Jewish land in Samaria.
The illegal outpost was built by the Ramadin tribe near the Jewish town of Alfei Menashe in western Samaria. The land in question belongs to the Himnuta organization, a subsidiary of the Jewish National Fund.
The Regavim organization filed a petition against the outpost several days after the destruction of the Jewish town of Amona in February. The Supreme Court had ordered the destruction of Amona after ruling that a number of buildings were constructed on privately owned Arab land. The Regavim petition is the first of its kind against illegal construction on Jewish-owned property in Judea and Samaria.
The State initially argued that since the land owned by Himnuta is managed by the Custodian of Government Property, it is not obligated to give priority to enforcement against illegal construction on these lands.
However, during the hearings, Himnuta responded to the Supreme Court through Attorney Dina Yahav that the land is private property and registered under the organization's name in the land registry.
According to the state's representative, attorney Meital Buchman Schindel, after examining Himnuta's position, it became clear that Himnuta had joint ownership of the land and that the state was mistaken in its original position.
The judges ordered the state to file an amended response to the petition within thirty days.
"We welcome the fact that the state has come to its senses and updated the court, because it is indeed a matter of building on private land, as we proved in the petition," said attorney Aryeh Arbus of the Regavim movement. "It is expected that the state set a precedent and act to destroy the illegal construction in the area, in accordance with the priorities set in the past, and will show that it applies the law equally in all cases, thereby saving the precious time of the Supreme Court."