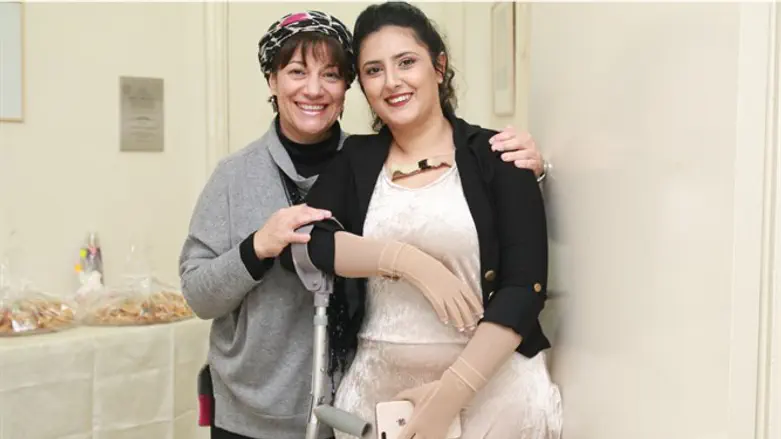 'The Jewish nation didn't abandon us'
Meir Pavlovsky
In April 2016, Eden Dadon was seriously wounded in a terror attack on the Egged #12 bus line near the Pat Junction in Jerusalem. She was the most severely wounded victim of a brutal attack that left 8 other Israeli civilians injured. At the end of last week, Eden, who is 17 today, celebrated her recovery along with her mother Rachel, also a victim of the attack, family members, and OneFamily, a foundation supporting terror victims and their family members which has escorted the Dadons since Eden's hospitalization. The thanksgiving banquet was held in OneFamily's center in Jerusalem.
Over the course of the event, Eden's mother Rachel addressed the guests. In a voice laden in emotion, she said, "We live here and love Jerusalem. We shall never abandon our city. Jerusalem is the Holy City, and we have to show them [the terrorists] that we will triumph." Rachel also shared a little about the family's struggles throughout the past months. "After the attack, we all learned first-hand about the unity of the Jewish nation. We were amazed by how many people came to visit, how many people cared about us, people whom we never laid eyes on before. We saw that the Jewish nation didn't abandon us, and this gave us the strength to continue fighting."
Eden also addressed the gathering herself. "Thank you to everyone who came. One year and seven months ago, I was badly hurt, and today I feel so much better than before, even though at the beginning of my journey to recovery I wasn't even capable of walking. Now I have the strength to make up all the matriculation tests that I missed, and I want to go back and continue learning."
Upon arriving in the hospital, Eden was immediately rushed into the ICU, unconscious and artificially respirated. She suffered from severe burns on a large part of her upper and lower limbs and on her face, as well. After two harrowing months, she was released from the hospital and commenced an elongated convalescence period. Mindy Levinger, director of OneFamily's Jerusalem branch who escorted Eden every step of the way since her injury, delivered her heartfelt blessing to Eden. "I've seen many miracles over the years, and Eden is one of them. I'm grateful for every single day, and I wish Eden that she should continue persevering and always seeing the positive, optimistic side of life. I'm proud of her."
OneFamily Foundation, which coordinated the event, facilitates and helps rebuild the lives of terror victims and bereaved family members in Israel through a strong emotional, psychological and financial support system. At present, the organization assists over 3,500 families of victims, bereaved families, and trauma victims.