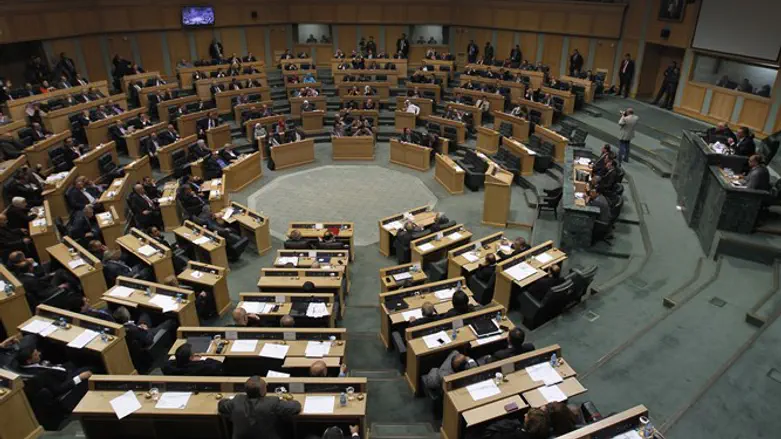 Jordanian parliament
Reuters
The Jordanian parliament on Sunday approved a proposal to establish a committee to reevaluate all formal ties with Israel, including the peace agreement, Haaretz reported.
According to the proposal, the committee will study Jordan's agreements with Israel and look into Israel's violation of them in order to determine whether or not the agreements should be continued or canceled.
The Jordanian parliament's decision Sunday does not necessarily mean that the peace accords with Israel will be annulled, noted Haaretz. Such a decision requires the approval of the government, the royal palace and the council advising Jordan's King Abdullah II.
A Jordanian political source said that even if Sunday's decision advances by a few stages, it is still unlikely that it would achieve final approval. However, the source noted that the decision was undoubtedly symbolic of the rage in Jordan over U.S. President Donald Trump's recognition of Jerusalem.
Though Jordan has a peace treaty with Israel, signed by King Abdullah's father Hussein, the country's parliament, which is made up mostly of Islamists, remains anti-Israel and its members have more than once called to annul the peace treaty.
Several years ago, Jordan MPs unanimously demanded the government expel the Israeli ambassador from Amman as a punitive measure after detectives in Israel detained the mufti of Jerusalem on the Temple Mount.
Last summer, Jordanian lawmakers voiced support for three terrorists who murdered two Israeli Border Police officers near the Temple Mount, praising them as "martyrs".
Relations between Jordan and Israel soured after an incident at Israel's embassy in Amman this past July in which an Israeli embassy guard shot to death two Jordanians in self-defense.
A diplomatic row was sparked, and Israel returned the guard as well as the rest of the embassy staff back to Israeli territory.
Jordan has since refused to allow the Israeli embassy in the country to reopen, stipulating its re-establishment on a resolution of the investigation into the incident.