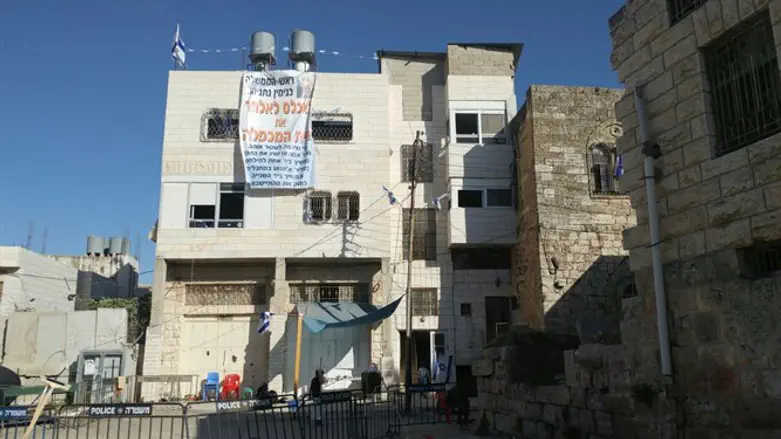 Machpelah House
Eliran Aharon
The residents of the 'Machpelah House' in Hevron agreed to be evacuated from their home Sunday. The residents told the Supreme Court that they would agree to leave the homes they claim were legally purchased if the State agreed to demolish a nearby storehouse illegally set up by local Arabs.
Jews took possession of the three-story building, which has become known as the Machpelah House'" due to its proximity to the Cave of the Patriarchs (Ma'arat Hamachpelah), in 2012, after the building had been purchased from a member of the Abu Rajab clan.
After 15 Jewish families moved into the property, however, members of the Abu Rajab clan claimed that the residents had forged documents from the transaction, and that no sale had taken place.
When the Defense Ministry's Civil Administration opened an investigation into the claim, then-Defense Minister Ehud Barak expelled the Jewish residents, leaving the Machpelah House vacant.
Five years later, residents returned to the Machpelah House, claiming that the Civil Administration was dragging its feet on the issue, and still had not made a final decision regarding ownership of the building.
According to the Haaretz report Sunday, the residents demanded that a number of their guards be put in charge of the building after they have been evacuated in their response to the Supreme Court.
The residents wrote that "out of respect for the honorable court, the petitioners will accept its proposal and agree to act according to the outline, despite the painful concession of the evacuation of the building and all of the psychological aspects involved, even if it is a short-term evacuation as the petitioners hope."
If the court accepts the residents' response, they will leave the building within 30 days.