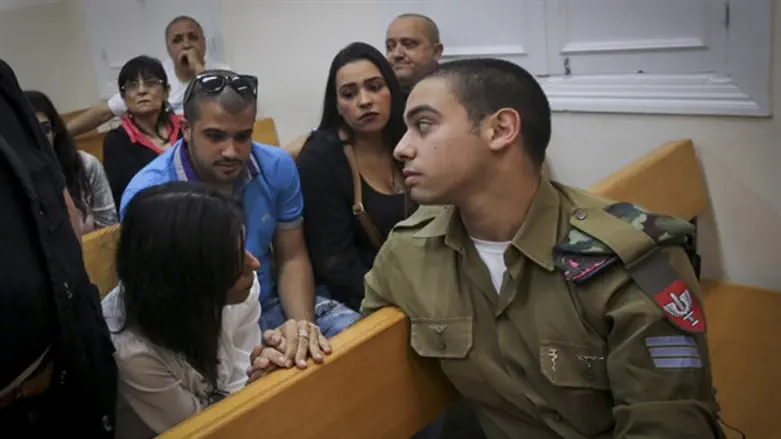 Elor Azariya in court with his family
Flash 90
The Knesset will hear this week a bill which would grant soldiers and other members of Israel's security forces immunity from criminal prosecution for actions taken in the line of duty.
The bill was first submitted a year ago in response to the prosecution of then-IDF Sergeant Elor Azariya, who shot and killed a wounded terrorist following a terrorist attack in Hevron last March. Azariya was found guilty of manslaughter in January and sentenced to 18 months in prison.
The bill, promoted by Deputy Defense Minister Rabbi Eli Ben Dahan (Jewish Home), states that "the law is intended to establish that members of the security forces will receive immunity for actions they carried out or actions that they refrained from carrying out, whether before, during, or after an operational incident or terrorist incident not in ongoing operational activity of the unit in which an employee or a member of the security forces serves."
According to the bill, any soldier, commander, or officer in the IDF serving in compulsory service, whether in active service or in the reserves, any police or Border Police officer, and any member of the security forces or intelligence which the Defense Ministry decides would be covered by the law, would be exempt from prosecution if there is suspicion of a criminal act during a terrorist attack or necessary security operation.
The bill further states: "A member of the security forces shall not bear criminal liability, shall not be interrogated under caution, and shall be immune to any legal action because of an act he carried out or refrained from committing before or during an operational event or in the performance of his duties as a member of the security forces."
The bill specifies that members of the security forces who commit offenses such as looting, vandalism, bribery, bullying, sexual offenses, and those who are not involved or involved in the operational event, would not receive immunity from prosecution.
Attorney Eyal Peltak, who helped write the legislation, said that the bill is necessary for Israel's security because a majority of soldiers feel that they do not have the backing of their commanders when carrying our operations. "The range of threats faced by the soldiers today is diverse, and the fear of wrong action and the fear of criminal liability causes hesitation in making a decision, wasting precious time that could cause harm to our forces.".