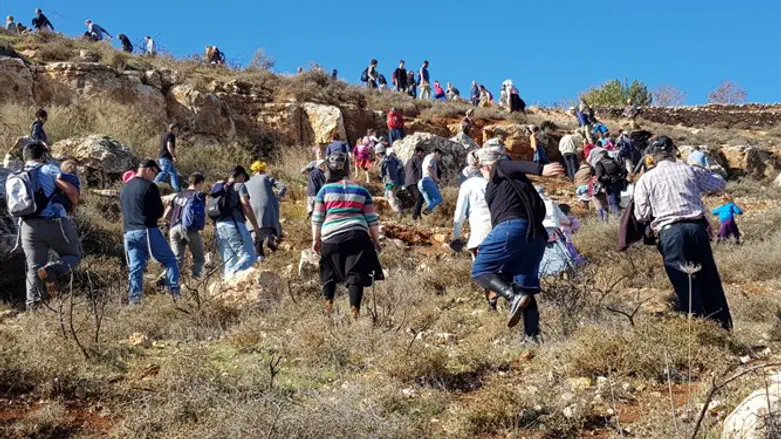 The second bar mitzvah hike
Yoni Kempinski
Children who participated in Avitzur Libman's bar mitzvah hike on Friday near the town of Migdalim in Samaria spoke about trauma they experienced the week before, when an Arab mob attempted to lynch them.
On November 30, children on an IDF-approved bar mitzvah trip were hiking near Migdalim. As the children were hiking, an Arab mob, mostly from the town of Qusra, attempted to lynch the children. The accompanying parents, who were acting lawfully as armed escorts, shot at the Arab terrorists, killing one of them.
Friday's hike was organized by the Samaria Regional Council in order to provide the children with a positive experience. Hundreds of other Jews joined them, and the hikers passed by the Arab village of Qusra.
The children also entered the cave where they previously hid for an hour and a half waiting for the IDF to arrive.
Speaking to the other hikers, the children said, "The Arabs told us in Arabic, 'If you were 18 years old, we would kill you.' There was a lot of chaos, and then they sprayed pepper spray at us, and threw stones at us until the brigade commander arrived."
Samaria Regional Council Head Yossi Dagan told Arutz Sheva, "I'm very moved to see how many people are happily hiking with us, saying 'Am Israel chai' (the nation of Israel lives). We will hike everywhere, without fear."
"We expect the IDF and Israel Police to provide security solutions and the necessary deterrence, and to stop the terrorists and their emissaries, and we expect ourselves to carry our flag with pride. We will hike on our soil, and we will walk here proudly. No one will scare us away."
Presenting Libman with a gift, Dagan said, "We came here in order to support Avitzur and his friends. We see great importance in our ability to hike anywhere in our land. This is an important message."
Honenu attorney Itamar Ben-Gvir said, "We applaud the Samaria Regional Council for withstanding the pressure to cancel the hike. We do not need anyone's approval to hike in our land."
YESHA Council Chairman Hananel Dorani told Arutz Sheva, "It's a good feeling, and a feeling of strength, that Israel can and needs to walk everywhere in the land of Israel. We are sending an important message today. All of our settlement here, in the Negev, in the Gaza Belt area, and in northern Israel, is in the merit of our security forces. It's not a provocation, it's a clear message about our right to our land, and our obligation to hike everywhere in our country."
Libman, the bar mitzvah boy, admitted that it was "not comfortable" for him to be there, but emphasized that "it gives me strength to lift my head. My bar mitzvah party was not simple. I am happy that there are so many people here, who came to show support and allow me to celebrate. I would like to thank the entire Jewish nation for their warm embrace in the past week. We will leave here strengthened."
Racheli, Libman's mother, said, "It is moving and difficult to come back here, and to think about the difficult things my son and the other children went through sends shivers down my spine. On the other hand, we chose to come back, despite the difficulty, to show that we will not break easily. We have a right to hike freely anywhere in this land, and we insisted on that right today."
Agriculture Minister Uri Ariel (Jewish Home) said, "I am happy to hike in Samaria together with these children, who were saved from the lynch and who were truly heroic. I visited the children at the beginning of this week, and I told them they deserve a certificate of honor for the way they handled the bar mitzvah hike last week."
"We need to hike everywhere in our land, with appropriate security forces. We will continue hiking in the land of Israel, and this hike is proof that we will not fear hiking anywhere in our land."