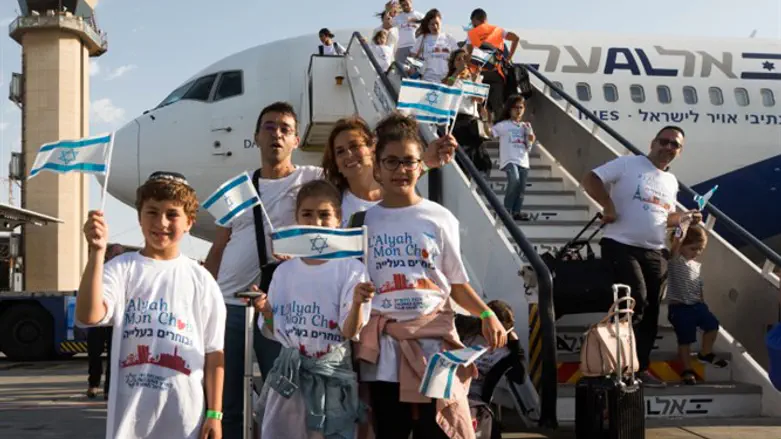 New immigrants from France
Nati Shohat/Flash90
A special conference held Wednesday in the Ruppin Academic Center discussed French immigrants to Israel who continue working in France, commuting via plane.
French immigrants to Israel facing difficult obstacles in the Israeli job market often choose to continue working in France.
Dr. Karin Amit, who heads Ruppin's master's program in the field of immigration and social integration, spoke to Arutz Sheva about a research project she did on the topic of French immigrants' absorption difficulties, as well as the problems they face integrating into the Israeli workplace.
"Some of the immigrants receive help and some do not. There are absorption processes, but there are also obstacles and difficulties," she said, noting that the two most prominent are the job market and education.
"They're coming from a modern European country, and their professions are appropriate for the Israeli job market, but many of the academic immigrants who work in a profession which requires an Israeli exam in order to transfer their license, find it very difficult to work in their field. We have tried to help them, but there are still many expert doctors who when they came were told that they would have to take a test and start from the beginning again."
This reality often causes those doctors to decide not to leave their workplace in France, she explained, so once a month or once every two weeks, they travel to France, perform operations or anything else in their field of expertise, and then fly home to their families.
"It's obviously not a simple solution," she said. "Immigrants who work in other fields which are difficult to transfer, such as lawyers, find themselves very quickly working in a call center, where other French immigrants sit and offer service to the public, maybe even answering calls from abroad, in French. This creates a French enclave and prevents them from integrating and learning the Israeli professional language."
Dr. Amit explained that such solutions are "honey traps," since even though it doesn't turn doctors into cleaners, which is what happened at first with immigrants from the USSR, and the pay isn't too bad, it would be appropriate for academics to be able to integrate into the Israeli job market. Lower-paying jobs, in the long run, keep these immigrants in jobs which are sometimes unstable and pay relatively little in relation to the immigrants' skills.
Most of those who commute to France choose to stay in Israel because of tradition and Zionism.
"Most of them say they came to Israel because of religious and Zionistic motives," Amit said, adding that anti-Semitism is also a factor. At the end of the day, "most of them bought homes and their families want to settle. Some of them expect to work in the Israeli job market, there are difficulties, but the family begins to integrate and they decide to make the move."
Though it's not a particularly comfortable life, Amit says it's not unheard of in today's global age. There are American professionals who spend two weeks in the USA every month working at their former jobs - a much longer flight each way.
"This trend exists in other places around the world. It's logical in today's day and age, but there are two groups that face difficulties:Tthose who are in a strong position, with occupations that are in demand, but suffer difficulties converting their licenses, or find the Israeli salaries insufficient, therefore retaining their jobs abroad. Then there are those who don't manage to find a job because they lack the language and skills do to so." This has been the lot of every immigrant group, but today the option of holding down a job abroad is possible.
Regarding education, Amit says the challenge is mainly that "the educational systems in Israel and France are very different. French parents give responsibility to the educational system, which takes charge of the child from six in the morning until seven in the evening. Parents don't report every little thing, nor do teachers, and there's no homework. It's a much tougher system."
"Families arrive, they're not so sure of the process or where to register their children. There's a tendency to send their children to religious schools, because they're more traditional, and there are difficulties when parents have to integrate their lifestyle with a religious institution. Additional problems crop up when the child has to fill his free time, and doesn't manage in the Israeli system, which offers several hours free each day. There are also classes which they did not have in France, and the parents can't help."
Amit says the system is working to find solutions, and in some areas with a lot of French immigrants, the solution is to offer cultural mediators, set up cultural programs to fill the afternoon hours, and open special classes for the immigrants.
However, Amit herself does not believe these solutions to be appropriate, since they create a French enclave. Others feel that the first generation of immigrants benefits from an enclave, while their children will have no need of it.
"There's a lot of efforts, and the Ministry of Immigration and Absorption is starting to understand that we need to make the bureaucracy easier and offer help with these processes," she said. "This will happen, but the question is if people will be reconsidering immigration to Israel by the time it does."