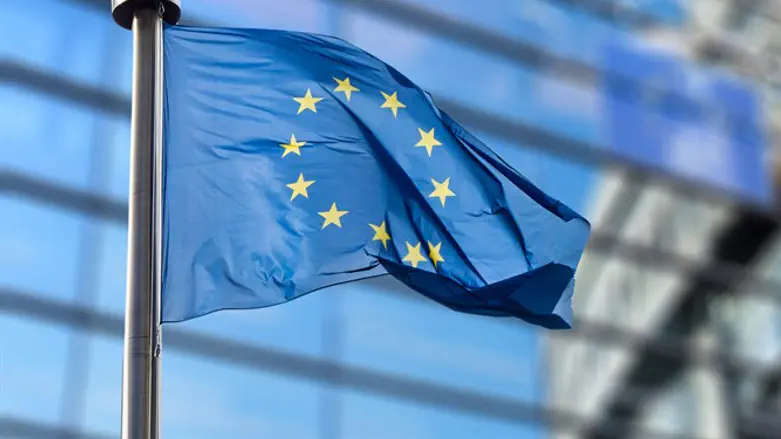 European Union flag
iStock
Israel's Foreign Ministry blasted the European Union Monday, after it was revealed that representatives from the 28-member international body had accepted an invitation to an anti-Zionist exhibition organized by the radical left-wing B'Tselem organization.
The B'Tselem exhibition being held in Jaffa, part of the city of Tel Aviv, condemns Israel's liberation of Judea and Samaria fifty years ago, incorrectly abelling the restoration of the Jewish presence in the area as an illegal "occupation".
EU officials confirmed that the union's ambassador to Israel, Emanuele Giaufret, was scheduled to visit the B'Tselem exhibition this Thursday, AFP reported Monday. An EU representative said the visit was part of the EU mission to Israel's observance of International Human Rights Day.
In response to the revelation, Israeli Foreign Ministry spokesperson Emmanuel Nahshon blasted the EU, saying the planned visit to the anti-Zionist exhibition was tantamount to 'spitting in Israel's face'.
"For reasons unknown, the EU people believe that the way to Israelis' hearts is by spitting in their faces," Nahshon told Haaretz.
"We are again seeing the same patronizing approach of preaching hypocritical, condescending morality that just pushes away rather than bringing closer. It is sad and superfluous."
EU ambassador to Israel Emanuele Giaufret
Mark Neyman/GPO
The diplomatic dustup comes a week ahead of Israeli Prime Minister Binyamin Netanyahu's planned trip to Brussels, where he is scheduled to meet with senior EU officials.
This is not the first flap over a visit by a European diplomat with members of the far-left B'Tselem organization.
In April, Netanyahu nixed a planned meeting with Germany's Foreign Minister, Sigmar Gabriel, after Gabriel met with representatives of B'Tselem and another radical left-wing organization, Breaking the Silence. The meeting was held a day after Israel marked Holocaust Remembrance Day, Netanyahu noted, making the already controversial particularly inflammatory.