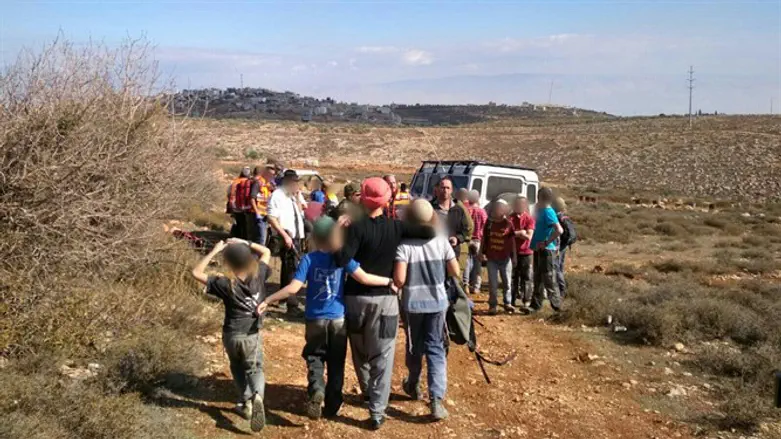 Children rescued from lynch mob
No credit
Four days after a gang of some 30 Arab stone-throwers mobbed a group of Israeli schoolchildren in Samaria last week, parents of the traumatized youngsters say no progress has been made in apprehending those responsible.
Last Thursday morning, a group of roughly two dozen 13-year-olds, accompanied by two armed adults, set out on a school hike near the Israeli town of Migdalim in Samaria, in celebration of the Bar Mitzvah of the youngest member of the class.
Midway through the hike, however, the children found themselves under attack by a group of roughly 30 Arab stone throwers from the nearby Arab village of Qusra.
The two adults escorting the children hurried them into a cave for shelter, while the mob rained rocks down upon the two guards, both of whom were injured in the attack.
For an hour and a half, the mob surrounded the terrified schoolchildren hiding inside the cave, hurling rocks at the cave entrance and spraying pepper spray in to force the hikers out.
One of the adults escorting the children opened fire on the attackers, killing one and wounding a second.
While one of the adults left to direct soldiers to the scene, the mob overwhelmed the remaining adult, hitting him in the face with a stone and stealing his pistol.
The mob then forced the children to hand over their cell phones and backpacks, while threatening to slaughter them.
When soldiers finally arrived, the children were pulled from the cave and evacuated – but no arrests of the attackers ensued, nor were any attempts made to retrieve the hikers' stolen property.
Four days later, little has changed.
Keren Perelman, whose son Yitzhar was among the 25 kids attacked last Thursday, lamented Monday that no arrests has been made in the case, nor any property recovered. Since the incident, Perelman added, no security agency has contacted her regarding the attack.
"Nothing's happened [in terms of returning] the stolen property," Perelman told Arutz Sheva. "Nothing has been returned. Not a single terrorist has been arrested, and [the security establishment] definitely hasn't interrogated anyone."
Meanwhile, residents of Qusra involved in last week's attack publicized pictures of one of the two adults who had accompanied children on the fateful hike, describing him as the "murderer of the tortured and holy resident of our village," encouraging others to avenge the slain attacker.
On Monday, Qusra residents attacked Jewish activists protesting last week's attempted lynch, hurling rocks and even boulders at demonstrators gathered outside of the village.