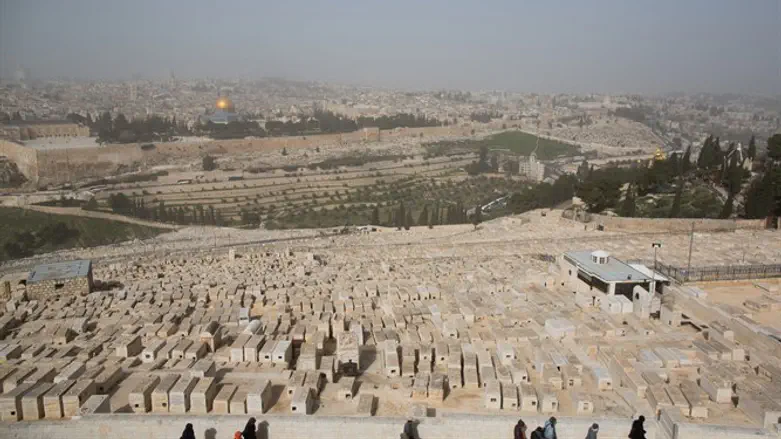 Mount of Olives cemetery
Yonatan Sindel/Flash 90
For decades, Jewish visitors to the world's oldest and most well known Jewish cemetery have suffered harassment, assaults, and even terror attacks while visiting the graves of loved ones or of prominent rabbis from generations past.
While individuals or even small groups of visitors to the Mount of Olives cemetery in Jerusalem have been targeted by Arab gangs in the area for decades, in recent years the assailants have become even more audacious, attacking large groups during funerals.
In December 2014, Arab stone-throwers attacked a convoy of mourners following a funeral at the Mount of Olives cemetery, injuring two.
Local Arab vandals have also targeted the tombstones of those buried on the Mount of Olives, smashing grave markers and littering graves with garbage.
"To our horror, we were shown countless graves ripped open and tombstones lying broken and destroyed in the Gerrer hassidim section of the cemetery," AFSI Director Helen Freedman told Arutz Sheva back in 2014. "We saw security cameras burned and destroyed."
In 2016, an Arab terrorist wounded a yeshiva student just outside of the Mount of Olives cemetery, stabbing him with a screwdriver.
Following the attack, the Knesset's Finance Committee increased funding for security on the Mount of Olives, though visitors say vandalism and harassment remain ongoing issues in the cemetery. In addition, the Jerusalem municipality provides an armed escort vehicle upon request for those who wish to visit the graves of loved ones.
Now, 61 Knesset members from across the political spectrum are teaming up to draw attention to the ongoing security problems at the Mount of Olives, and to pressure the government to crack down on vandals.
Led by Shas MK Yoav Ben Tzur, the 61 MKs have formed the Lobby for Protecting and Restoring the Mount of Olives, with the goal of ending the desecration of graves in the cemetery, and bringing to justice those who attack visitors.
"I am proud to be the chairman of the largest lobby in the Knesset," said Ben Tzur.
"Since the establishment of the lobby, the number grave desecrations has dropped by a significant margin, and we're just getting started. We will do whatever is necessary to protect the dignity of those buried there and to ensure the safety of visitors."
The international Main Committee for the Protection of the Mount of Olives, led by Avraham and Menachem Lubinsky, hailed the establishment of the new lobby, calling it "unprecedented".
"This is historic, unprecedented, since the lobby now represents the consensus view among all of the parties and includes members from across the political spectrum – except from the Joint Arab List."