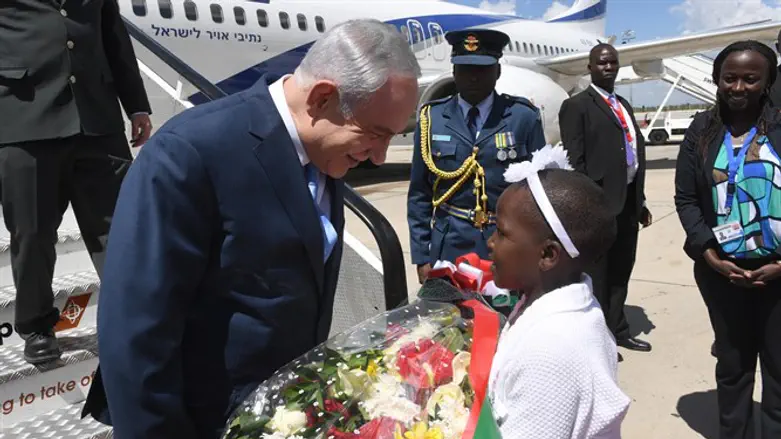 Netanyahu arriving in Nairobi, Kenya
צילום: Flash 90
Prime Minister Binyamin Netanyahu sent condolences to the family of an IDF soldier who was murdered in Arad at the end of the week.
"On behalf of the government ministers, the citizens of Israel and myself, I send condolences to the family of the late IDF soldier Ron Yitzhak Kukia. The security forces are making every effort to quickly catch the lowly murderer who committed this act.I have no doubt that the Shin Bet will succeed in this mission and we will bring the murderer to justice.
"We will hear today a review in the government by the Director General of the Foreign Ministry and staff, who are doing excellent work.The Foreign Ministry is constantly being criticized.Israel's foreign policy is also unjustly criticized, when it has very great achievements to its credit."
The Prime Minister said, "The Foreign Affairs Ministry conducted a comprehensive survey in 54 countries, among the citizens of those countries. The main finding is that in 47 out of 54 countries, the majority of the public believes that their country will benefit from a relationship with Israel.This is a huge revolution. What is also interesting here is that half of the public in countries surveyed in the Middle East appreciate Israel's assets and strengths and believe that their country has something to gain from a relationship with Israel."
"When I say time and again that Israel is a rising world power, I know what I'm talking about: Today's Israel is a country that has been courted. You should have been there during the 12 hours I spent in Africa or Latin America on a tour there or on visits to Asia and elsewhere.Israel is a prosperous country, a developed country, a strong country. Citizens of countries with whom we do not have a strong official relationship understand that there is benefit to be gained in their relations with Israel and therefore we are going from strength to strength and developing more and more ties.
"The government will approve today a comprehensive reform of the business licensing law, whose focus is on easing the lives of small and medium-sized businesses, the mainstay of our economy. The law will reduce the regulatory and bureaucratic burden on these businesses, and ease the process of establishing new businesses," he said.
"I would like to express my appreciation to Interior Minister Aryeh Deri, who is leading this move, and I also believe that although it involves certain difficulties, all the ministers will unite to help pass this important reform."