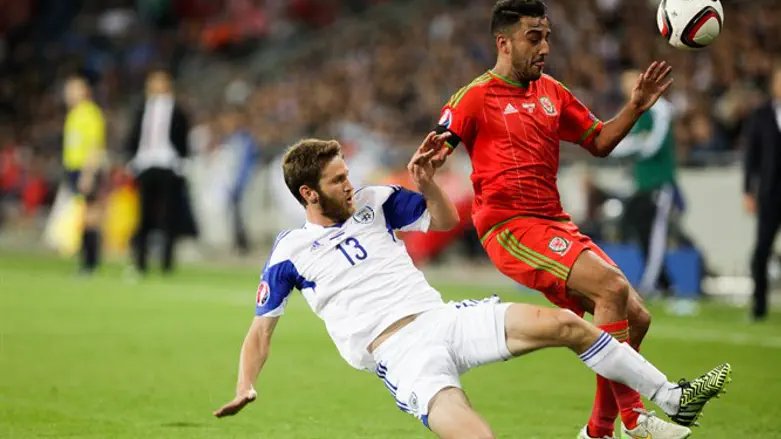 Soccer
Flash 90
A group of Israeli soccer players met Thursday with Rabbi Meir Mazuz, a leading Sephardi Haredi rabbi, and implored him to support their efforts to move soccer matches from Shabbat (the Sabbath) to weekdays.
The athletes had scheduled the meeting in order to protest a recent decision by haredi parties to drop their demand that soccer games be moved to the weekdays. "The problem is that the haredim think that soccer is only something for secular Jews and they don't care about it," one player told Rabbi Mazuz.
"They do not know that today there are dozens of players who have strengthened their religious observance and this will hurt them, not to mention the hundreds of thousands of viewers who [have also become more observant but] will also violate Shabbat because of this decision."
"We, the athletes, do not want soccer on Shabbat, and we had the expectation that the haredi MKs would stand by us in the struggle and we were disappointed, unfortunately. "
Rabbi Mazuz told them to keep pressuring the haredi political parties to act on their behalf. "Shabbat is something which the Jews have fought to keep for generations and it doesn't make sense that they (the haredi MKs) continue to allow such a thing," he told the players.
The haredi political parties had dropped their opposition to soccer games on Shabbat last week as part of an agreement with Prime Minister Netanyahu. While Israel's top league rarely plays on Shabbat, its lower leagues play almost entirely on Shabbat, which makes it impossible for religious-observant athletes to compete.
The issue has caused a storm lately, as the government mulls officially sanctioning soccer games on the Jewish day of rest. Israeli law forbids forcing someone to work on Shabbat, and many soccer players contend that obligating them to compete violates their rights.
The Supreme Court recently accepted the petition of the Movement for a Jewish and Democratic State, which claims that holding soccer matches on Shabbat is against the "work and rest hours" law, and the government must order the cessation of games on Shabbat or adjust the games to satisfy requirements through legislation or regulations.
In response, the government plans on invoking a legal mechanism that allows a company to obligate its employees to work on Shabbat by arguing that this move prevents significant economic and cultural damage.