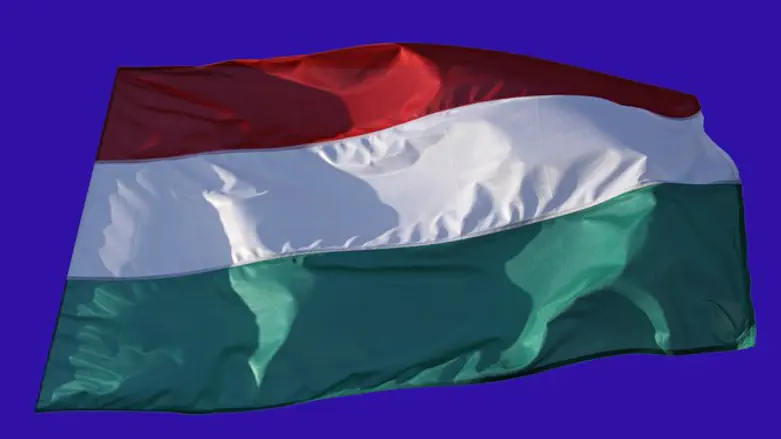 Flag of Hungary
iStock
"Is there a future for Jews in Europe?" is the theme of a high-level meeting of politicians, Jewish leaders and security experts, who will come together on Wednesday to discuss the future of Jews in Europe and in particular Hungary.
The high-level conference, organized by the Action and Protection Foundation (TEV), is hosted by Hungarian Interior Minister Sándor Pintér.
The TEV's Fifth Anniversary Conference will be comprised of a series of lectures and panel discussions regarding how migration patterns effect European identity, the rise of anti-Semitic incidents and how they are measured and how young people are adapting to anti-Semitic threats.
Taking place in Budapest, panelists will also focus on how Hungary is facing a unique challenge where extreme-right party Jobbik looks set to become the second largest political force despite a history of anti-Semitism which have only been superficially addressed before upcoming elections.
High profile speakers include Dr István Mikola, Hungarian Minister of State for Security Policy and International Cooperation, Rabbi Andrew Baker, Personal Representative of the OSCE Chairperson-in-Office on Combating Anti-Semitism (OSCE), Mike Whine, director - Community Security Trust (CST) and Eli Hazan, Foreign Affairs Secretary of the Likud Party of Israel.
Commenting on the Conference, Kálmán Szalai the Secretary of TEV who organized the event said, "This is an extremely important gathering for European Jewry. The two biggest challenges to Europe today will be discussed, migration and terrorism. Both have a serious impact on the Jewish community. Here in Hungary, we face an additional challenge from an extreme right party, the Jobbik, which has built its base on spreading rational hatred and anti-Semitism, and today is using the general frustration of voters to gain favor. Education is the only way to form an inclusive society and we hope that this conference will be part of that solution."