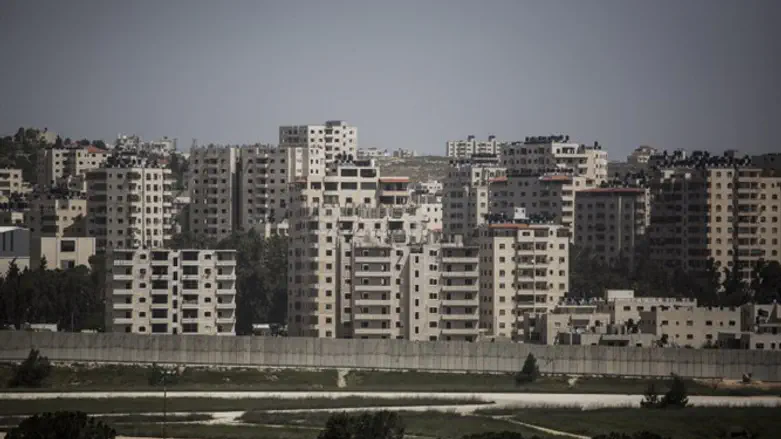 Kafr Aqab
FLASH90
The planned demolition of an illegal Arab neighborhood in northern Jerusalem has been halted, following the intervention of the Jerusalem District Court on Thursday.
The City of Jerusalem has marked six illegal apartment buildings, each six stories or taller, which house a combined 138 housing units – many of which have yet to be completed – for demolition in order to clear the way for the paving of a new road linking the city with Samaria.
The six buildings in question comprise one of the newest neighborhoods in Kafr Aqab, an Arab village built inside the municipal boundaries of Jerusalem. The village, which has expanded dramatically over the past decade, is made up almost entirely of illegal buildings.
Built beyond the security fence, Kafr Aqab is officially a part of the capital, but has in effect become an independent community, and is widely regarded as a no-man's land for government officials.
Earlier this month, plans to demolish the six illegal buildings in question with explosive charges were revealed to the public for the first time, drawing criticism from residents, who fear the explosions could cause collateral damage, and from Kulanu MK and former Jerusalem city councilwoman Rachel Azariya, who accused Mayor Nir Barkat of "playing with fire".
The demolition has been planned as a joint operation between city officials, Israel Police, the IDF, and the Shin Bet internal security agency. The buildings are slated to be levelled in a series of controlled explosions so powerful, hundreds of residents of other buildings in the area will have be evacuated as a security precaution.
According to a city spokesperson, the plan was approved months ago, and the courts have already ruled repeatedly on the legal status of the building, including decisions by the Supreme Court.
"The demolition orders were issued months ago against [the buildings] which had been built illegally and without building permits and which had no residents [when the orders were issued] and which today are still largely empty. Time and again, the courts, including the Jerusalem District Court and the Israeli Supreme Court, issued [demolition] orders."
Nevertheless, on Thursday, the Jerusalem District Court placed a temporary hold on the planned demolition of five of the six buildings. The court issued the order following an appeal by residents of Kafr Aqab, who have claimed the demolition could cause collateral damage.
The Jerusalem District court has given the municipality until the end of January to respond, ahead of a hearing on the matter scheduled for February 28th.
A spokesperson for the City of Jerusalem told the Jerusalem Post that the municipality had not been notified of the court order.
"We will learn the appeal and then respond. It should be stressed that the demolition order was approved in 16 different judiciary levels, including three times in the High Court."