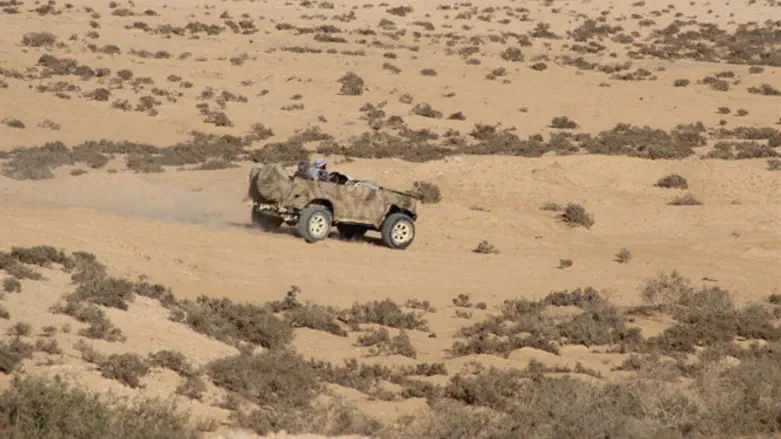 Bedouin ATV in IDF base.
Regavim
The phenomenon of Bedouins in southern Israel breaking into IDF bases and making off with large amounts of weapons and personal belongings has become increasingly familiar over the past few years. In an effort to treat the problem, MK Anat Berko (Likud) is advancing a bill that would allow automatically double the sentence handed down to those caught robbing an army base.
"The Bedouin in the south have made a lucrative business in stealing from IDF bases," Berko told Channel 20. "Israel doesn't have any way to deter them. Just recently, thieves stole a large number of personal items and weapons from reservists in the Tze'elim base."
"These people breaking into bases are not there to eat at the army canteen. They are there to steal weapons and we need to protect ourselves."
Berko also called on IDF Chief of Staff Gadi Eizenkot to change the IDF's rules of engagement and permit soldiers to open fire on thieves. "I'm sure he understands that there is a problem," said Berko. "There isn't any supervision on bases and people are breaking in and stealing weapons, which is used by both criminals and terrorists."
The IDF has been rocked by an alarming amount of thefts lately. In an interview with Arutz Sheva last week, reserve soldiers said Bedouin disguised as IDF soldiers arrive in the area via tractors, steal soldiers' personal belongings, and escape. So far, security forces have not been able to put an end to the problem.
"They walk around here as if they own the place, dressed as soldiers and stealing our personal belongings worth thousands of shekels," said one soldier, adding that he personally witnessed a Bedouin climbing onto an IDF tank and running off with weapons.
"They know that we can't do anything to them, and no one can catch them when they flee because they ride on tractors," the soldier explained. "People come to do reserve duty and they end up suffering financial setbacks. It's not normal."
"We're not talking about stolen military equipment, which in itself is an embarrassing problem. We're talking about personal equipment belonging to the reservists themselves. These Bedouin just walk around the base's firing zone, and no one bothers them."
This is not the first time such incidents have occurred. In April, 2,000 IDF reservists petitioned IDF Chief of Staff Gadi Eizenkot to prevent the theft of military equipment from IDF bases and training grounds in the Negev.
The IDF has been upgrading its weapons storehouses in response to a recent spate of thefts from IDF bases. In early October, thieves broke into an IDF base and stole anti-tank explosive devices, thunder bombs, anti-tank mines, explosive bricks, and bullets.
Last May, 33 M-16s were stolen from an IDF armory on the Sdeh Teiman base in southern Israel. After an investigation, a renovations contractor working on the base turned out to be accomplice and police rounded up the criminal ring.
In response, IDF chief Gadi Eizenkot ordered the military to invest NIS 15 million in safeguarding the IDF's weapons storehouses. The measures will include biometric scanners, additional cameras, and improved locks.