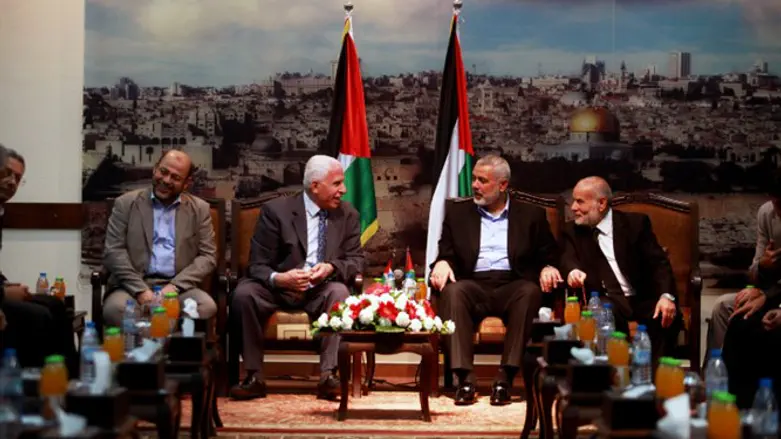 Senior Hamas leaders greet PLO delegation in Gaza City
Flash 90
The Palestinian Authority (PA) does not yet control more than 5% of Gaza, despite the reconciliation agreement with Hamas which stipulates that it must have full control of Gaza by December 1, a senior PA official said Sunday.
"We are like a child that is crawling on this issue of empowering the government. We have not surpassed 5% on the issue of empowering the government," said Hussein al-Sheikh, the PA official in charge of civil affairs.
Sheikh also accused Hamas of not dissolving the Gaza administrative committee which governs Gaza and which was to have been dismantled as part of the agreement.
"The administrative committee is still working. Hamas did not dissolve it," said Sheikh, who also claimed that Hamas is preventing the PA from collecting taxes in Gaza and that the PA government is "collecting crumbs" at the Kerem Shalom crossing with Israel.
Senior Hamas member Salah Bardawil refuted Sheikh's statements, saying, "You've received the ministries, the authorities and the border crossings. Show the people the 95% you haven't received."
Representatives of the Palestinian Arab factions, including Hamas and Fatah, met last week in Cairo to discuss the implementation of the reconciliation agreement signed last month. The talks ended in an agreement to hold new elections by the end of 2018. If held, the new elections would be the first in the PA in over a decade.
However, Hamas later expressed disappointment over the latest round of talks, accusing Fatah of backing down from commitments in previous summits.
The PA assumed control of Gaza's border crossings following the agreement signed with Hamas, but there are still disagreements, particularly over the fate of Hamas's armed wing.
PA chairman Mahmoud Abbas has demanded that the armed militias in Gaza disarm as part of the implementation of the agreement – a demand which has been rejected.