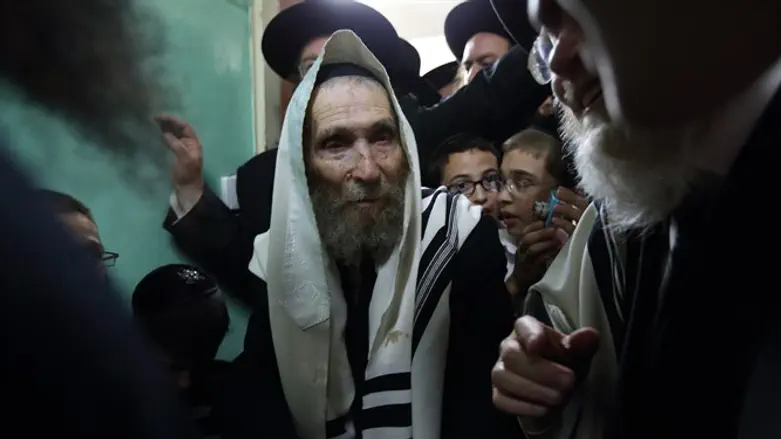 Rabbi Shteinman
FLASH90
Rabbi Aharon Leib Shteinman's condition improved somewhat Thursday, following a sudden deterioration the day before, a source close to the rabbi told Arutz Sheva.
Rabbi Shteinman, one of the most prominent decisors of Jewish law in the haredi world, was hospitalized for testing at the Mayanei Hayeshua medical center in Bnei Brak Tuesday night, two weeks after he had been released from the hospital for a treatment of a fever.
While hospitalized this week, Rabbi Shteinman's condition suddenly deteriorated Wednesday, just hours after his daughter, Rachel Devora Berlin, passed away from cardiac arrest at the age of 72.
The 103-year-old rabbi was listed in critical condition, though doctors at Mayanei Hayeshua were able to stabilize his condition by Wednesday evening.
Professor Eliyahu Sorkin, chief of Mayanei Hayeshua's intensive care unit, told reporters that the rabbi's condition, while still serious, had stabilized. Earlier on Wednesday, Rabbi Shteinman's condition had been listed as critical.
Sorkin added that Rabbi Shteinman was suffering from a kidney infection, but is not in any immediate life-threatening danger.
"He still has a problem with one of his kidneys, and we're trying to find a solution," said Sorkin. "I don't believe he is in any immediate danger. But I don't know what his condition will be tomorrow, and I can't even be sure how it will be an hour from now. But his condition has stabilized a bit."
On Thursday, Kobi Rosenstein, an aide to Rabbi Shteinman, told Arutz Sheva that the rabbi's condition was improving.
"Yesterday we had a really tough day in terms of the rabbi's health," said Rosenstein.
"This morning, however, there was some improvement in the rabbi's condition, thank God. Last night he underwent a complicated surgical procedure, but thank God, it ended successfully."
Rosenstein expressed his gratitude for the thousands of Jews around the world who took the time to pray for Rabbi Shteinman's recovery.
"Yesterday afternoon at around 1:00 p.m., when the rabbi was in critical condition, the dean of the Ponevezh Yeshiva, Rabbi Gershon Eldestein, and our teacher, the master of Torah, Rabbi Chaim Kanievsky called upon all yeshivas to stop learning and to recite Psalms [for Rabbi Shteinman]. And they did indeed stop learning in yeshivas and recited Psalms during the afternoon. There was also a mass prayer event at the Western Wall late that night. And now we see the effects of the prayer on the rabbi's condition."
While the rabbi showed signs of improvement Thursday, Rosenstein emphasized that he was still in serious condition.
"We still need to pray, as the rabbi's condition remains serious, and we need for him to be strong in spite of his advanced age, and for God to bless him with a complete recovery."