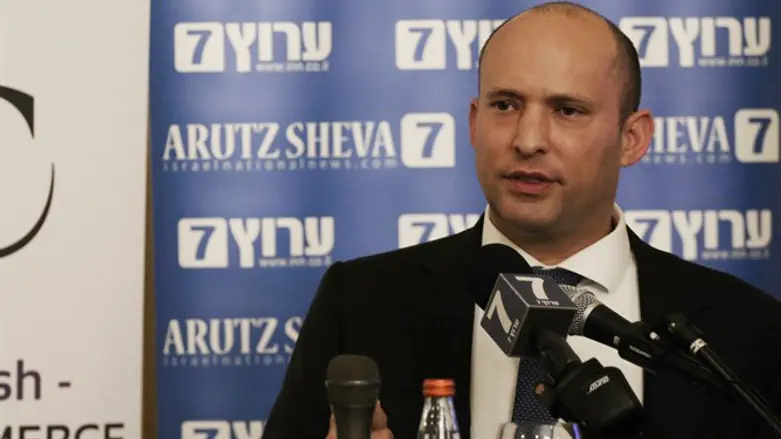 Naftali Bennett
Miri Tzachi
Education Minister Naftali Bennett on Tuesday evening criticized the media's constant attempts to locate an Arab allegedly beaten in Hevron by the spokesman of the leftist organization Breaking the Silence.
Last week, the Deputy State Prosecutor decided to close an investigation against the spokesman, Dean Issacharof, who had claimed he had beaten an Arab during his military service, in order to highlight alleged human rights abuses by the IDF.
The IDF responded by launching an investigation to bring Issacharof to justice if he had broken IDF rules. However, the investigation revealed that the events described by Issacharoff "did not happen at all."
Later, Issacharoff claimed that the IDF had interrogated the wrong Arab and named a different Arab who he allegedly beat. However, once again the State Prosecution said that it could not find evidence that the second Arab was indeed beaten by Issacharoff, after the witness could not identify Issacharoff as one of ten soldiers who allegedly beat him in Hevron.
"For two days now, the Israeli media has been entirely invested in helping to prove that Breaking the Silence's spokesman indeed beat Arabs, and is not a liar, as the State Prosecutor determined," Bennett wrote on Facebook on Tuesday.
"They send reporters to extract evidence, conduct interviews at the studios and allow the organization to defame the justice system (suddenly it's okay? Because with Elor Azariya it was forbidden) - all so that this despicable organization can continue wandering around the world and smearing IDF soldiers on every possible stage," added the education minister.
"It does not matter to them that another fighter from the same unit says in his voice that Dean is a liar. They would prefer to believe a Palestinian outlaw from Hevron instead of an entire unit of IDF fighters. Incomprehensible. Then they wonder why the public is furious at the media. You have lost the people, friends," continued Bennett.
At the conclusion of his post, Bennett offered Issacharoff an original proposal.
"A word to you, the infamous spokesman, Dean Issacharoff: If you insist that you beat an Arab illegally, first and foremost you ought to be ashamed of yourself. Second, maybe you can do us all a favor and sentence yourself to a year's house arrest and free us from your disgraceful public presence," he wrote.