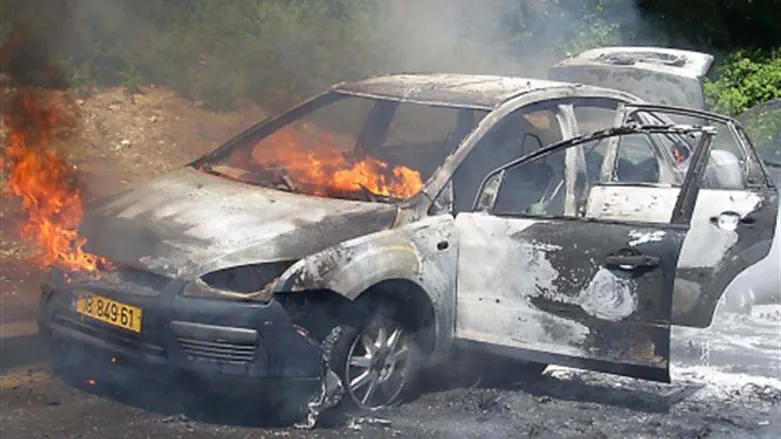 Burning car (stock image)
Flash90
Three Israelis were rescued by IDF units in the Palestinian Authority-controlled city of Shechem (Nabulus) early Tuesday morning, after they snuck into the city without approval from the local army commander.
IDF forces in Samaria escorted some 1,000 Israeli visitors into Shechem overnight, to visit the site of Joseph's Tomb on the southern edge of the city, an ancient pilgrimage site which once housed the Od Yosef Chai ("Joseph Still Lives") Yeshiva and remains a popular place for prayer.
After the city was handed over to Palestinian Authority control as part of the Oslo agreements of the 1990s, Jewish access to Joseph's Tomb became restricted, and visitors are now required to enter as part of army convoys, with groups of 1,000 permitted in roughly once a month.
Nevertheless, some pilgrims, including members of the Breslov Hassidic movement, have conducted regular visits to the holy site without army authorization, entering Shechem by car overnight, praying, and driving out, typically without incident.
On occasion, however, Israelis visiting Joseph's Tomb have been the victim of terror attacks.
In 2011, Ben Yosef Livnat was murdered and five others wounded when three members of the local PA security force opened fire on a group of Jewish visitors.
Before sunrise early Tuesday morning, a group of three Jewish visitors entered Shechem by car, with no authorization from the regional IDF commander, an army spokesperson reported.
After the three exited their vehicle, however, local Arabs stole the car and torched it, leaving the Israeli visitors stranded.
The three contacted the army for assistance, and were safely extracted from Shechem by an IDF unit. There were no injuries reported.
Israeli police questioned the three visitors over their unauthorized entry into the PA-controlled city before releasing them.