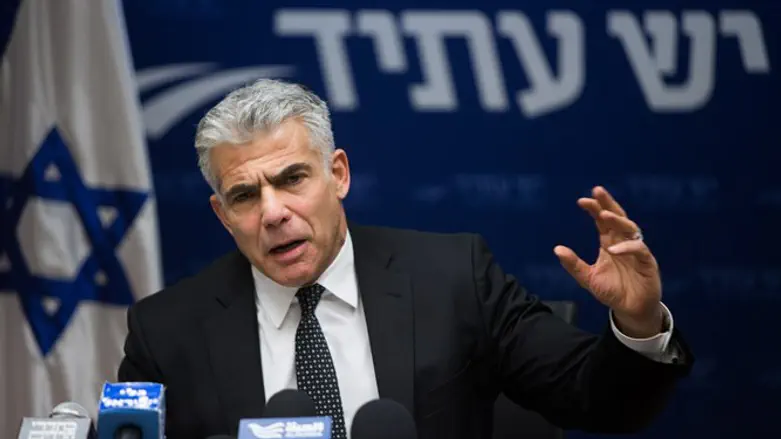 Yair Lapid
Yonatan Sindel/Flash 90
While the Israeli Labor Party has failed to capture the premiership since Ehud Barak's 1999 defeat of Binyamin Netanyahu, a coalition of center-left and center-right figures could defeat the Likud if new elections were held today – and possibly form a viable governing majority, a new poll shows.
According to the survey, conducted on behalf of Walla News and published Sunday afternoon, a joint list bringing together the center-left Yesh Atid with the center-right Kulanu party and joined by former IDF Chief of Staff Gabriel 'Gabi' Ashkenazi would defeat Prime Minister Netanyahu's Likud party by a seven-mandate margin, 33 to 26, likely ensuring the formation of the first government without Netanyahu at the helm since 2009.
The Zionist Union, a joint list of the Israeli Labor Party and Hatnua faction, would win 17 seats – 7-seat decline compared to the 24 the party won in 2015.
The predominantly-Arab Joint List party would fall from 13 seats to 11, while the Jewish Home party would rise by one mandate, from 8 to 9.
The haredi United Torah Judaism party would also gain a single seat, rising to seven from the six it won in 2015, while the Sephardic haredi party Shas would disappear from the political map, winning just three seats – below the 3.25% minimum electoral threshold.
Meretz, the far-left opposition party which won five seats in 2015 would rise to seven, while Defense Minister Avigdor Liberman's Yisrael Beytenu would gain one seat compared to 2015, rising to seven.
Under this scenario, a government led by Lapid and the 'dream-team' joint faction would have several viable paths to a 61-seat majority, either with or without the Likud party as a coalition partner.
Yet when asked which leader was most suited to lead Israel, Prime Minister Netanyahu remained the most popular among respondents with 31%, compared to 14% for Lapid, 9% for Finance Minister Moshe Kahlon, 7% for former Prime Minister Ehud Barak, and 7% for current Zionist Union chairman Avi Gabbay. Thirty-three percent of respondents said that they did not have a preference, or that they did not think any of those offered were fit to govern.
The survey also asked respondents how they would vote if new elections were held today with no 'dream-team' option.
Prime Minister Netanyahu's Likud won a plurality of seats with 27, followed by Yair Lapid's Yesh Atid with 21, the Zionist Union at 19, the Joint List with 11 mandates, and the Jewish Home with 10.
The haredi United Torah Judaism party surged to eight mandates from six, while Shas sank to three from seven, falling below the 3.25% minimum threshold.
Kulanu, Yisrael Beytenu, and the far-left Meretz party all were projected to win seven mandates.