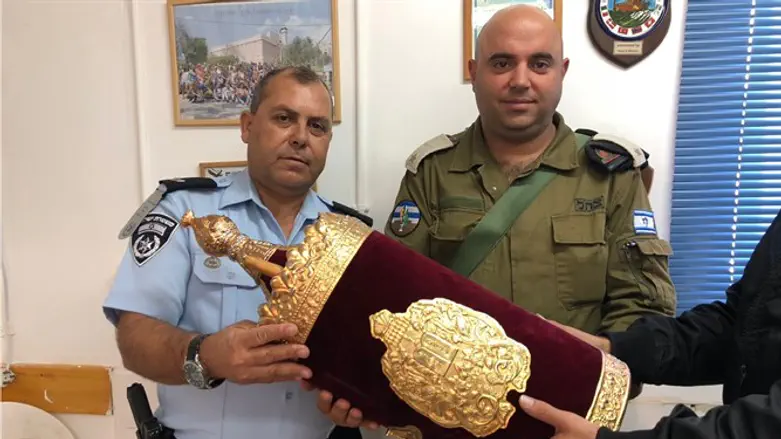 One of the stolen scrolls
Police spokesperson
Five Torah scrolls were stolen from a synagogue in Jaffa over the weekend – only to be returned shortly afterwards, thanks to the cooperation of Israeli police and local Palestinian Authority forces in the city of Hevron, south of Jerusalem.
Torah scrolls, which are written out meticulously by hand by Torah scribes (sofers), cost tens of thousands of shekels to produce, and are frequently targeted by thieves.
Arab thieves operating in Jaffa, part of the city of Tel Aviv, stole five such scrolls from the Beit David synagogue on Bikkurei Tzion Street over the weekend.
After Israeli police were notified of the theft, Israeli authorities contacted PA security forces, who helped locate the stolen religious items in the city of Hevron, some 45 miles away in Judea, south of Jerusalem.
Chief Superintendent Danny Yisrael, who oversees all joint operations between Israeli police in Judea and Samaria with PA security forces, said the return of the holy items reaffirmed the importance of cooperation between Israeli and PA authorities.
"The return of the Torah scrolls is just one example of the cooperation between Israel Police and Palestinian police in a wide array of police activities, from the return of stolen property to its owners, to joint work solving murder cases and drug-related crimes. All of these [cooperative activities] are to the benefit of all citizens, and deny criminals refuge from the law."