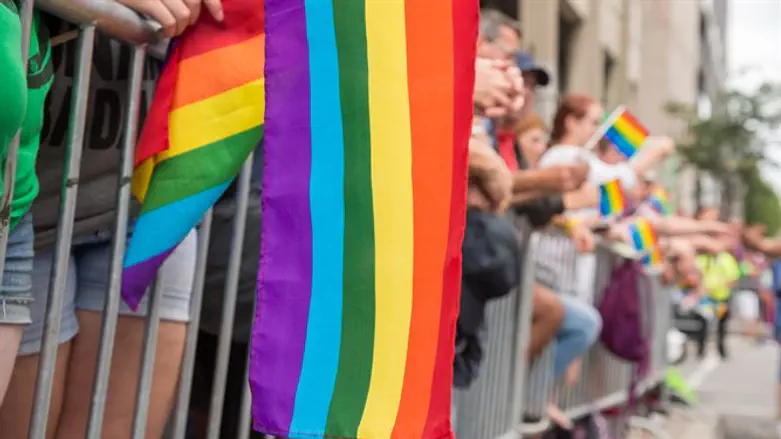 LGBT flag
iStock
An LGBT-oriented magazine in the UK has fired a recently hired editor after a series of offensive tweets were publicized on Buzzfeed this week.
Josh Rivers, who was picked up recently to serve as the editor of the Gay Times, was fired Thursday after it was revealed that he had posted numerous offensive comments on social media from 2010 to 2015, mocking Jews, homeless people, disabled children, and others.
In some of his tweets, Rivers propagated traditional anti-Semitic stereotypes, as in this 2011 comment:
"I wonder if they cast that guy as 'The Jew' because of that f**king ridiculously large honker of a nose. It must be prosthetic. Must be."
Other comments simply expressed a general antipathy towards Jews.
"Jews are gross. It's the only religion with 'ew' in it.' Family Guy genius before the festivities begin."
In a 2010 comment, Rivers mocked several children with apparent physical disabilities.
"Was so close to casually asking this chav to keep her incested, down syndrome, retard children quiet. But I just switched carriages."
After Buzzfeed publicized the comments, Rivers issued an apology, and claimed that he had changed dramatically over the past two years.
To every single person who is hurt, offended and disappointed: I'm sorry. The tweets are horrible. They are abhorrent. They are ugly. They are so hateful."
"These tweets from my past show a deep self-loathing that I've worked hard to overcome. I have long taken steps to address the issues that prevented me from treating people with the respect and kindness I value so dearly now."
On Thursday, the Gay Times announced that it was severing ties with Rivers.
"After an investigation of the facts surrounding historical tweets by Josh Rivers, the newly appointed Editor of Gay Times magazine; we announce that his employment has been terminated with immediate effect."
"We sincerely apologise for the offence that has been caused, particularly to those members of our wider community to whom such inappropriate and unacceptable commentary was the focus."