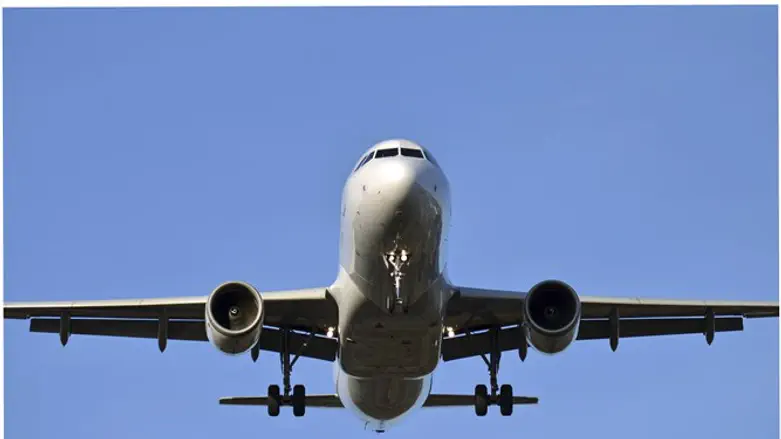 Boeing airplane
Thinkstock
A German state court ruled Thursday that an Arab airline acted appropriately when it refused to carry an Israeli passenger who had already booked a flight, after the airline learned that the man held an Israeli passport.
The decision was made by the Frankfurt state court, which found that Kuwait Airways could not be held responsible for its refusal to carry the Israeli passenger over his citizenship in the Jewish state.
The Kuwaiti government maintains a boycott of Israel, the court noted in its ruling, highlighting that the airline could have faced sanctions domestically if it carried Israeli citizens.
The case centered around the cancellation of a booked flight from Frankfurt to Bangkok. The Israeli traveler had already purchased tickets to Bangkok from Frankfurt via a stopover in Kuwait, but was barred from boarding after the Kuwait Airways staff learned he was carrying an Israeli passport.
Frankfurt Mayor Uwe Becker blasted the decision, calling for the banning of Kuwait Airways flights in Germany.
"To my mind, an airline that practices discrimination and anti-Semitism by refusing to fly Israeli passengers should not be allowed to take off or land in Frankfurt, or at any other airport in Germany. This Kuwaiti law, which is deeply anti-Semitic and forbids the transport of Israelis, cannot be legal grounds for the violation of international standards."
In 2015, Kuwait Airways nixed its route between London's Heathrow Airport and JFK Airport in New York, after US officials demanded the airline accept Israeli customers following a complaint by Israeli passenger Eldad Gatt. Gatt had informed the US Department of Transportation that Kuwait Airways had refused to sell him a ticket after the airline became aware of his Israeli citizenship.
A year later, Kuwait Airways was forced to close routes between European cities, following a series of legal challenges by the Lawfare Project against the airline's policy of barring Israeli citizens.
Last month, Germany's Federal Minister of Transport Alexander Dobrindt announced an investigation into Kuwait Airways' refusal to fly Israeli passengers, which he says is a violation of aviation law, the Lawfare Project reported.