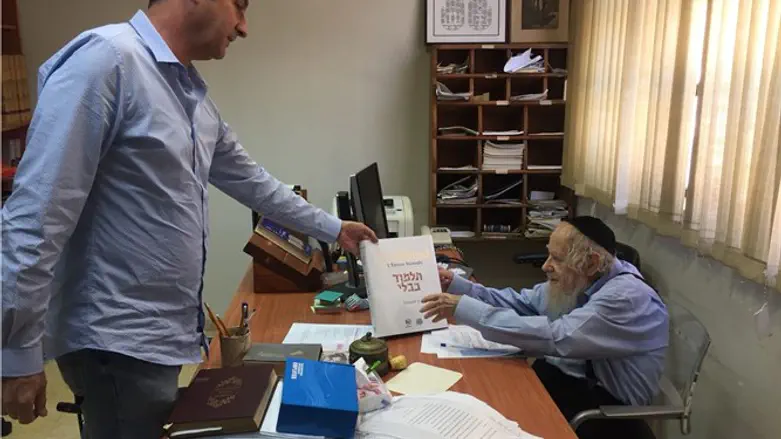 Rabbi Steinsaltz receives new volume
Steinsaltz Center
For years, Rabbi Adin Even-Yisrael Steinsaltz, 80, has been working to make the Jewish library accessible to every Jew and anywhere in the world.
With his own hands the rabbi built a life project that continues gaining momentum from day to day.Today, much of the Talmud has already been translated into several languages, including Italian, Spanish, French, and English.These translations were done that everyone may learn the Talmud in his own language.
Today the 37th volume, Tractate Eiruvin, was published in French.The director of translation for the Steinsaltz Center, Yossi Monk, came to present the volume to Rabbi Steinsaltz personally.
Those present in the room said that it was impossible to ignore the great excitement that flooded the rabbi's face when he saw and accepted the book.
"Every time a new book of my father's life's work is published and submitted to my father, there's a new and special atmosphere in the room," said Rabbi Menachem Even-Yisrael, the director of the Steinsaltz Center. "My father is very excited to browse through these new books.
"Every new book that comes out is a significant milestone in the continued accessibility of the Jewish library to anyone who wants to learn from it.I thank everyone who worked towards the success of this mission, and welcome the continued expansion of this important endeavor."