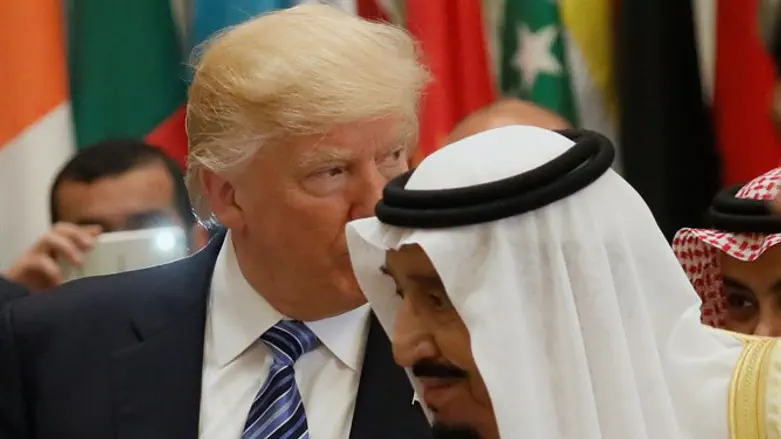 Trump and Saudi King Salman
Reuters
Is Saudi Arabia considering a rapprochement with the Jewish state?
According to a report by a Lebanese newspaper Tuesday, the Saudi government is weighing the possible normalization of relations with Israel ahead of a planned Middle East peace program by the Trump administration which aims to not only secure a final status agreement between Israel and the Palestinian Authority, but lead to recognition of the Jewish state by the larger Arab world.
Lebanon's Al-Akhbar has publicized the contents of a letter it alleges was sent from Saudi Foreign Minister Adel al-Jubeir to the kingdom's Defense Minister and Crown Prince, Mohammad bin Salman.
In the letter, Adel al-Jubeir urges the Crown Prince to accept the Trump administration's efforts to normalize relations between Israel and the Arab world, listing the potential benefits of such a dramatic shift in Saudi policy.
While al-Jubeir acknowledges that the move would initially be rejected by much of the Arab world, it would have long-term benefits.
The Saudi Crown Prince is believed to be behind a series of reforms aimed at modernizing his kingdom's economy and currying favor with Western governments.
In September, the Saudi government announced it would lift the ban on female drivers in 2018.
Earlier this month, authorities arrested dozens of senior government officials and members of the Saudi royal family on corruption charges. Considering the ties some of the suspects had with radical Islamic movements, some observers suggested the arrests were part of a crackdown by Crown Prince Mohammad on terrorist supporters within the government, while the The Economic Times cited claims that the arrests were meant to foil a planned coup by those opposed to Mohammad's reforms.
Some in the Arab world remain skeptical of the Al-Akhbar report, however, noting that the paper has shown a pro-Hezbollah bent in the past. Channel 10 cited unnamed sources in the Arab world who suggested the Al-Akhbar report may be a ploy to harm Saudi Arabia and benefit one of its chief regional rivals, the Iranian-backed Hezbollah movement.
Saudi Arabia recently declared war on Hezbollah, calling the Shi'ite terror group "the Party of Satan". Hezbollah leaders have claimed publicly that the Sunni kingdom is colluding behind the scenes with Israel against the Lebanese terror group.