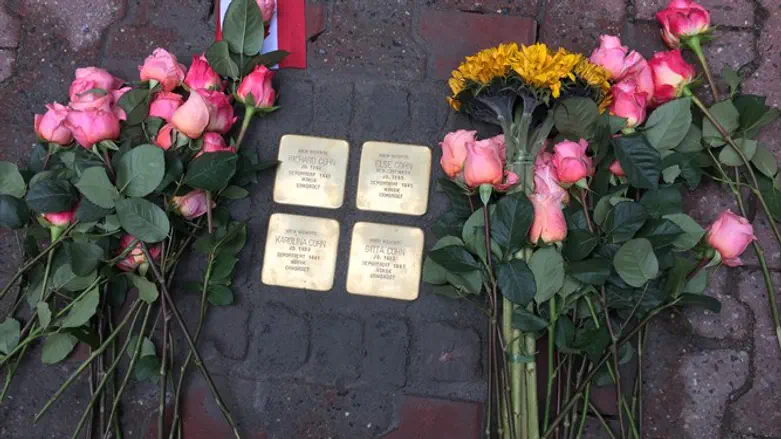 In memorium
Arutz Sheva
A moving ceremony commemorating Karolina Cohn, whose pendant was found in the Sobibor death camp last year, was held in Frankfurt today (Monday).
On the way to her death, 14-year-old Karolina dropped her charm and a year ago the charm was discovered by archaeologists in the area of the Sobibor camp.
The silver pendant is engraved with the words "Frankfurt" and the date of Karolina's birth.If it had not been for the excavations at Sobibor, Karolina and herimmediate family would have been forgotten.
Her family met today for a moving reunion 70 years after the inferno endured by the Jewish People. "Our standing here together is proof of our victory over the Nazis, who wanted to erase the memory of the Jews in Europe," the family's representatives said at the ceremony.
התליון
צילום: ערוץ 7
In January of this year, Yad Vashem researchers succeeded in identifying Karolina Cohn as the pendant owner, mainly thanks to a database of lists of deportations and expulsions funded by the Claims Conference, which initiated the commemoration event as part of the organization's activities and support for education, documentation, and commemoration of the Holocaust.
The discovery of the pendant led to a study of relatives of Karolina who survived and did not even know of her existence. Twenty-six relatives of Karolina's family arrived today from around the world for a first reunion and took part in laying memorial stones.
"Stumbling Stones" is the name of an ongoing commemoration project in various cities in Germany and throughout Europe, created by the German-born artist Gunter Deming in 1995, commemorating thousands of victims of the Nazi regime by placing slabs with their names on the sidewalks adjacent to the houses where they lived.
The "Stumbling Stones" are embedded in sidewalks in different cities in order to remind the passers-by of the names of the victims of Nazism."A person is forgotten only when his name is forgotten," says the artist.